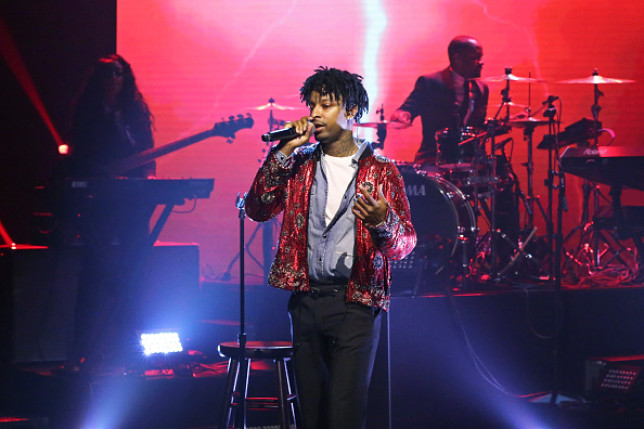 "Been through some thangs but I couldn't imagine my kids being stuck at the border/Flint still need water/People was innocent couldn't get lawyers." ~21 Savage "a lot" verse performed on The Tonight Show 1/28/2019
In Atlanta, GA just hours before the Super Bowl was to be played in Mercedes-Benz Stadium on February 3, 2019, Grammy-nominated rapper 21 Savage was detained by the U.S. Immigration and Customs Enforcement (ICE) agency. A law enforcement agency of the federal government with civil and criminal authority, ICE was established on March 1, 2003 under the George W. Bush administration through the, then newly formed, Department of Homeland Security. ICE is staffed by over 20,000 officers who enforce the immigration laws of the United States and investigate criminal and terrorist activity of foreign nationals living the country.
According to reports from ICE, 21 Savage (real name Shé Yaa Bin Abraham-Joseph) entered the U.S. legally in July 2005, when he was a minor, but failed to depart under the terms of his nonimmigrant visa, becoming "unlawfully present" when the visa expired in July 2006. At a moment when U.S. Immigration has largely been framed and politicized as a "southern border" issue, 21 Savage's case is more the norm than an exception. According to a 11/27/18 report by the Pew Research Center, there were about 10.7 million unauthorized immigrants, with about 700,000 being "overstays" whose visas expired sometime in 2017. Of the over 10 million undocumented immigrants in America, over 5 million are not from Mexico.
Since news broke of 21 Savage's arrest Sunday afternoon, social media has been a buzz, instantly making him Hip Hop's face of the current immigration discussion. The father of 3 children, and a rising leader in Atlanta, many are questioning the timing of 21 Savage's detainment. Just five days earlier, he performed his new song "a lot," on national television remixing it to address the immigration and Flint water crises.
Although 21 Savage is not the first rapper to face possible deportation (see Slick Rick in 2000 and Shyne in 2009 ), he is the first to experience the full force of ICE and our current broken immigration system. This is unique because in addition to the specific immigration dynamics his case raises, 21 Savage is a detainee in a U.S. immigration detention center, which are themselves the focus of a humanitarian controversy.
As the dialogue about immigration heats up, and the deadline for another possible government shutdown looms near, it is clear 21 Savage's ICE detainment has introduced millions of new spectators to the discussion, more specifically those within Hip Hop culture. Record labels, organizations, and artists are voicing their support and sharing petitions with their large base of followers and fans, encouraging people to educate themselves on our immigration system.
Less than a week ago, 21 Savage rapped "I couldn't imagine my kids being stuck at the border," on The Tonight Show, and today he is experiencing this personal nightmare first hand. Regardless of ICE's ultimate decision in the case of Shé Yaa Bin Abraham-Joseph, it is clear the face of immigration has changed, and the conversation has another layer.