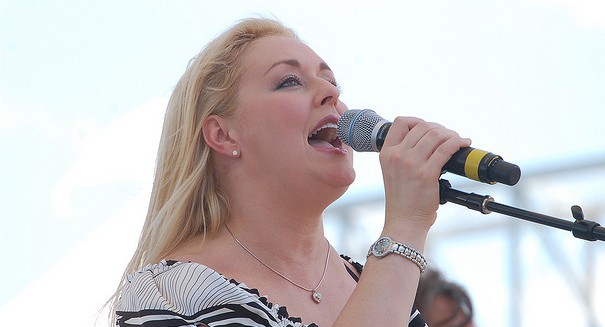 Vivid Entertainment halts DVD distribution of Mindy McCready's sex tape after the singer's suicide.
The late country star Mindy McCready's funeral and memorial plans were announced Friday, according to E! Online. A private funeral service will be held for McCready Tuesday at Crossroads Church in Fort Myers, Florida. Her memorial, E! Online reports, is tentatively scheduled for March 6 at the Cathedral of the Incarnation in Nashville, Tennessee.
McCready committed suicide last Sunday at her home in Heber Springs, Arkansas. Cleburne County Sheriff Marty Moss told the New York Daily News that officers found "Ms. McCready deceased, from what appears to be a self-inflicted gunshot wound to the head."
McCready's death comes one month after her boyfriend, music producer David Wilson, died at the couple's home in Heber Springs. While it was first reported that Wilson killed himself, the New York Daily News notes that the sheriff's office later opened an investigation into the death.
McCready's life was one roller coaster ride after another. In April 2008, McCready told the tabloids that she had an affair with pitcher Roger Clemens. Although McCready said that the two met when she was just 15 years old, she claimed that they didn't sleep together until she was in her twenties.
"Yes, that is sad news," Clemens said in a written statement to reporters at a Houston Astros training event Monday morning when asked about McCready's death. "I had heard over time that she was trying to get peace and direction in her life … The few times that I had met her and her manager/agent, they were extremely nice."
TMZ reported Tuesday that Vivid Entertainment has ceased all DVD distribution on McCready's sex tape. Vivid Entertainment founder Steve Hirsch told the website that the freeze will continue indefinitely. The sex tape was released by Vivid Entertainment in 2010, but McCready said that she never authorized the tape's release.
What was your favorite Mindy McCready song? What will McCready be best remembered for? Share your thoughts in the comments section.