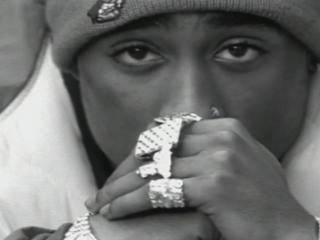 "Teenagers, they've got a lot of responsibilities and a lot of burdens because in fact we're given a horrible world. The gift that we're getting when we have to take over is horrible. They left us, they're leaving this world in bad shape to fix up. And I think we deserve a lot of respect." ~Tupac Shakur during a 1988 interview
Thirty years ago, Tupac Shakur participated in an on-camera interview highlighting his progressive views and 17-year-old optimism. Before the record deal, there was a divine knowing in his bold declarations and insightful observations. Although no one could have imagined the level of success this young man would see just a few short years later, his potential for greatness was undeniable.
Tupac Shakur was born in Harlem, New York to activist parents in 1971. His mother, Afeni Shakur, raised Tupac to be a critical thinker and advocate for justice. His childhood was marked by extensive periods of poverty, political engagement and an affinity for the arts. In 1988, Tupac moved to Marin City, California from Baltimore with his mother and younger sister. It was here that his professional career in music began.
In 1991, Tupac released his first solo studio album, 2Pacalypse Now. While the album was not a commercial success, it showcased Tupac's political convictions and solidified rap music as the revolutionary voice of the streets. The lead single "Brenda's Got A Baby," chronicled the journey of a 12-year-old girl who was sexually abused by a family member. From 1991 until his murder in 1996, Tupac released six studio albums, including the first ever double CD. He was also the lead actor in six feature films.
Throughout his career, Tupac was the voice of Black youth, frequently warning adults of the impending doom that could befall us all if they continued down a zero-tolerance, "us versus them" path, as it related to young people. It was during this time that Tupac created the acronym T.H.U.G.L.I.F.E.; The Hate U Give Little Infants F**cks Everyone. Over 20 years later, we are witnessing Tupac's prediction, across demographics and geographic locations.
Each day seems to bring a new tragedy or controversy that has left millions wondering how we got to this point. Here are four quotes from Tupac's 1988 interview that foreshadowed our current state as a nation on the topics of mental illness, the school to prison pipeline, suicide, and hate crimes.
Mental Illness
"We're not being taught to deal with the world as it is. We've been taught to deal with this fairyland, which we're not even living in any more. And it's sad." ~Tupac Shakur (1988)
While the onset and course of mental illness varies widely, a report by the National Institute of Mental Health  stated, 50% of all lifetime cases of mental illness begins by age 14 and 75% by age 24. There is also an 8-10-year delay between the onset of symptoms and intervention. However, with the increased public awareness about mental illness, there seems to be a cultural shift occurring in how treatment is viewed.
School to Prison Pipeline
 "We got so caught up in school being tradition that we forgot it was a learning tool" ~Tupac Shakur (1988)
According to the ACLU, the school to prison pipeline is a national trend that funnels children from public schools to the juvenile corrections system. Children living in poverty who have a learning disability and history of abuse and neglect are at greatest risk of receiving punishment instead of an intervention to improve academic or emotional functioning. Zero tolerance policies for even minor infractions too often leads to lifelong involvement in the corrections system. Equipping our schools with the resources necessary to ensure students receive a well-rounded education, including hiring faculty and staff dedicated to empowering students, is crucial to making schools tools of learning.
Suicide
"Aren't they wondering why death rates are going up and suicide is going up and drug abuse. Aren't they wondering?" ~Tupac Shakur (1988)
According to a 2016 report by the Centers for Disease Control and Prevention (CDC), suicide is the 2nd leading cause of death for individuals ages 10 to 34 and the 4th leading cause of death for individuals 35 to 54. The rate of suicide has increased sharply over the last 30 years, with most demographic groups being affected. In recent weeks, this public health issue has garnered significant discussion and left many searching for answers, with the deaths of Kate Spade and Anthony Bourdain.
Hate Crimes
"This is supposed to be a melting pot but no one is learning from the other's mistakes. And that's where the tragedy comes. Because if we were all open, we would learn…" ~Tupac Shakur (1988)
As a means of collecting statistics, the FBI has defined a hate crime as a "criminal offense against a person or property motivated in whole or part by an offender's bias against race, religion, disability, sexual orientation, ethnicity, gender, or gender identity." Based on a 2016 FBI report, the number of hate crimes increased by 5% over the previous year reaching a five-year high. According to this report, nearly 60% of victims were targeted because of their race/ethnicity, 21% because of their religious beliefs, and 16% because of sexual orientation bias.
"Society is like that. They'll let you go as far as you want, but as soon as you start asking too many questions and you're ready to change…BOOM. That block will come." ~Tupac Shakur (1988)
Tupac Shakur's reflections 30 years ago offered insights we can still learn from today. As a society, it is time we ask the tough questions necessary to spark change, and not be hindered by the inevitable blocks that arise when the status quo is challenged. Our future depends on it. If not now, then when?