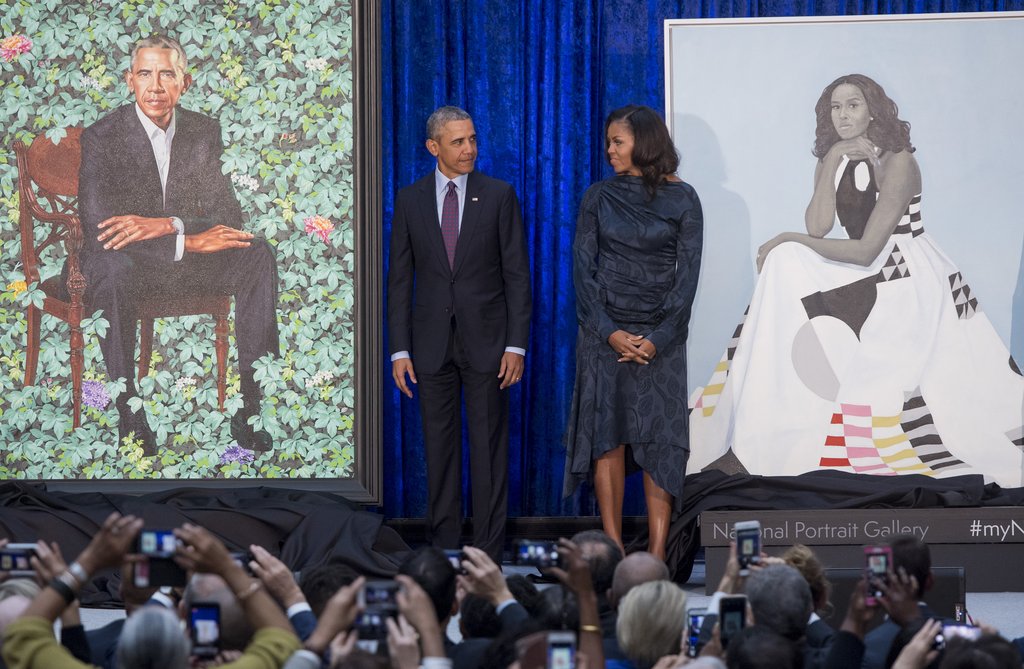 Is it really so surprising that such a breakthrough moment in American history is marked by such unconventional portraiture?
Say what you will about the recently unveiled paintings of President Barack Obama and former First Lady Michelle, they definitely mark a sharp break with the normally staid pattern of presidential portraiture.
But whether that's a good thing or not may depend on your vantage point — and probably, in part, your politics, too.
The biggest criticism of the Michelle Obama portrait, painted by Baltimore's Amy Sherald, is that the image barely resembles her.  She's younger, less fashionable and less confident than the woman we grew accustomed to seeing around the Oval Office – or overseas visiting famous dignitaries like Nelson Mandela.
And President Obama's portrait — the handiwork of New York-based artist Kehinde Wiley – seems to represent him as a somewhat older man.  He's just sitting there, gazing good naturedly at the viewer.  And though he's dressed in a suit, he's not wearing a tie.
Supporters say Obama looks relaxed and confident.  Critics say he looks un-serious, and undignified.
Some have even compared his expression to that of Mad Magazine's Alfred E. Neumann, who once famously asked "What, me worry?"
Even more concerning to some is the naturalistic setting.  Obama's not in the White House or on the stump.  He's sitting in an ornate wooden chair surrounded by dense and flowering green foliage, some of which nearly engulfs him.  It's a study in contrasts.
Kehinde says he deliberately chose and wove together three different kinds of flowers to represent Obama's background.   Some are native to Hawaii, where Obama was born and grew up, some to Kenya, the land of his father, and some are found in gardens in Chicago, where Obama cut his political teeth.
It's the kind of colorful symbolism one typically finds in Kehinde's iconic depictions of Black personalities. But the lack of formality strikes some as too "un-Presidential" for an "official" portrait.
The response from conservatives especially has been brutal.  Cheryl Chumley, opinion writer for the Washington Times (where I am also a guest contributor), was aghast.  Seeing Obama's portrait was a "WTFreak moment," she said.
But once the initial shock over these images wears off, their novelty and richness may well become more apparent.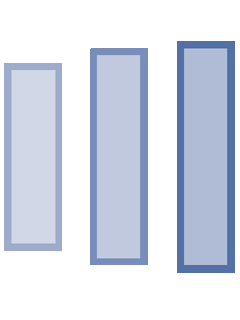 The two artists clearly went far beyond the stark photographic realism of so many presidential portraits.  Typically, those portraits closely resemble the subject at hand and place him in or near the Oval Office.  And they invariably portray him as towering and in command.
The Obama portraits, by contrast, may actually be more realistic in portraying some of the challenges of being America's first African-American First Couple.
The portraits are also rich in their texture and detail, especially the faces of the two Obamas.  More than a reflection of the way they typically look in public, they seem to peer behind the official mask to reveal more about their subjects' character.
Barack Obama, from this vantage point, resembles a gentle village or tribal elder.  He's solidly grounded, and seems ready to address whatever comes his way — but with a natural ease.  And Michelle Obama exhibits a decidedly soft femininity that suggests innocence and vulnerability.
For diehard Obama supporters, these are positive traits that point to the authenticity and transformative quality of the Obama presidency.  It's hardly something to mock or sneer about.
Sherald and Kehinde  are not the first artists to take a artistic liberties with high-profile subjects.  For example, many people have questioned the way Martin Luther King, Jr. is portrayed in his memorial statue.
And in the 1980s many veterans initially complained bitterly about the "modern" and "undignified" design of the Vietnam War memorial – and about the young Vietnamese-American artist, Maya Lin — only to warm to the structure over the years.
The controversy over the Obama portraits will eventually subside.  Their artistic novelty — and the distinctive motifs and styles of two contemporary African-American painters — will gain some well-deserved attention.  Statements of support and praise from former presidents will undoubtedly pour in.
And some day, hopefully soon, it may seem unsurprising – indeed, totally expected and fitting — that a pair of such highly unconventional portraits will mark such a breakthrough moment in American history.