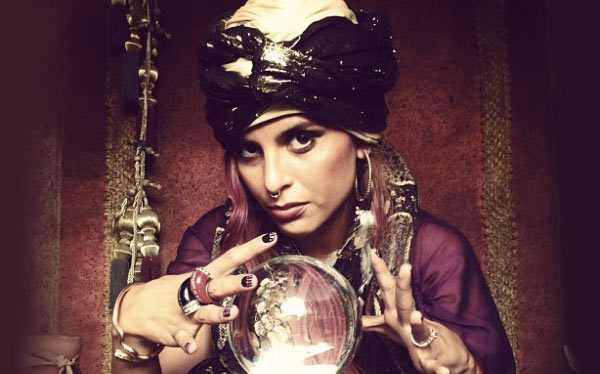 Continued economic uncertainty, sweeping social changes, and a desire for greater control over their lives has many Americans searching for a "genie"
(It's worth noting that all of these services, while not necessarily offering a 100% money-back guarantee, generally offer partial refunds as well as additional free psychic advisor time if the customer is dissatisfied).
I decided to try Psychic Source at its $30 for 30-minute intro rate.   I chose an advisor Karla, who's originally from somewhere in Eastern Europe.  From her recorded profile I surmised that she didn't take herself too seriously.  The main thing she told me was not to worry about money – "lots of money is coming!" she assured me — and a mate was, too, someone from "Ish-tan-bul," as she pronounced it.   It sounded so exotic.  I asked her about my current activities.  Was I having success with my writing?  Could I do something different to become even more established?  And what about the woman I was interested in now?  Amazingly, she had no idea.
In the end, I came away with the impression that "lots of money coming" meant I would likely have lots of funds to spend in the future on more psychic services – namely Karla's, of course.   When the session ended, I didn't "re-up."
Was it worth it?  Not really.  But the site makes clear that their services are "for entertainment value only" — a clever disclaimer that tends to shield them from any charge of fraud or malpractice of some kind.  And I was definitely entertained.  Karla was smart and very funny.  Especially when he said I should consider becoming a psychic advisor myself.  What a hoot!
After the session, I began thinking about the void that psychic advisors might fill for the lost, the besieged and the lovelorn.  It's true:  lasting and intelligent friendships may be hard to find, in part because so many people have lost the ability to cultivate them.   And so many families are broken – families that may be the underlying source of so much distress to begin with.   We all need someone to share our emotional predicaments and life challenges with, and maybe a psychic consultation – even with a total wannabe – still helps in a pinch.
But the fact remains that there is no "quick fix" for what ails us.  Real spiritual work takes time.  Like so many web-based offerings, online psychic services may give false hope and reassurance and an illusion of personal control.
In place of self-doubt and introspection, a search for professional guidance or a support group, and above all an embrace of greater humility, one indulges one's desire to figure out and somehow overcome the inherent vagaries of life.
I really don't know what the future holds, and I have no idea why things happen the way they do.  Maybe God — if he or she exists — does.   A mere mortal, and fellow sufferer, surely doesn't.
Still, having a personal "psychic adviser" — a "genie" of sorts — on tap allows some people to rest more comfortably in life's mystery – even if it's just for one more day.   And a growing number of corporate executives swear by them, and pay untold thousands for private, usually face-to-face, consultations.  But aside from the occasional testimonial, there's little real evidence that psychics are helping your average middle-class American "get ahead."
Still, in a country with a raging opioid epidemic where Americans face addictions of so many kinds – from sex to porn to gambling to hoarding  – finding a measure of momentary solace in soothsayers hardly seems to qualify as self-abuse.
So, try it if you like.  Just remember:  you might end up contributing to someone else's good fortune — far more than your own.