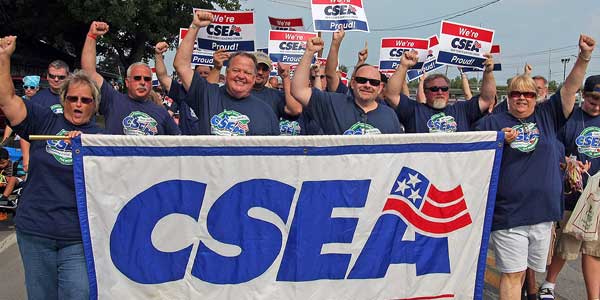 Twenty-six states have chronically "underfunded" pension plans, leaving today's taxpayers to foot the bill for decades of greed and excess.
There's an old saying:  As California goes, so goes the nation. When it comes to public sector pension plans, California is indeed a trend-setter:  no one is bankrupting state treasuries like the Golden State is.
This is not a news story that the nation's progressives want to hear, much less tell.  How a small group of public sector unions, operating in cahoots with liberal Democratic governors and state bureaucrats, forced taxpayers to foot the bill for a Cadillac retirement system that is forcing states to turn their wallets inside out – or risk lawsuits.
It started back in the 1930s when the California State Employees Association, or CSEA, worked with the state government to set up a generous pension system in the spirit of the New Deal.  But in recent years, especially since the Democratic administration of Gray Davis in the 1990s, it has ballooned into a budgetary boondoggle – and now even Democratic governors like Jerry Brown are crying "Enough."
Brown late last year won an appellate court judgment that declared his attempts to "claw back" overly generous pension benefits constitutional.  CSEA, which is accustomed to getting its way on pension issues, is aghast — but with any luck, the trend will continue.
Under Davis' administration, California took a labor-slanted pension system and turned it into a union feeding trough.   Davis lowered the retirement age by five years (to 55) but allowed public sector workers to stay on the rolls, as if they were still working, mushrooming their pension benefits.  For law enforcement, he reduced the retirement age to 50 under a similar arrangement.  In response, the state's teachers and fire-fighters unions demanded the same benefits – and largely got them.
The CSEA had spent a whopping $5 million in member dues to get Davis elected. The newly elected governor was simply returning a political favor – at the expense of everyone else.  It was a "golden parachute" for retirees — but just a small sliver of the state's workers (about 15%) actually benefited.
In today's workforce, public sector workers, and not just in California, operate like a labor aristocracy.  They are the only segment of the workforce whose ranks are growing, and a relatively high percentage (over 35%) of the workers are unionized, unlike the private sector, where less than 8% are.  Moreover, while private sector pension plans are often anemic, public sector plans are typically quite generous.
Even so, no state has erected the kind of collusional state pension system that California has, with such drastic financial repercussions.
In California last year, nearly 23,000 retired government workers received a pension of at least $100,000 through the California Public Employees' Retirement System (CalPERS), according to watchdog group Transparent California.  Another 30,000 received generous pay-out through other state pension systems.  And the pay-outs are escalating.  For example, the number of CalPERS pensioners in the $100K club has grown 63 percent since 2012.
California's pensions are financed in part through payroll taxes on public sector workers but the state government foots about 43% of the bill.  In theory, the government also relies on annual returns from its stock investments to help meet its funding commitment to CalPERS.  But since the 2007-2008 recession especially, those returns have slackened considerably.  And yet the government has done little to lower its risk.
It's become a game of "pension roulette."