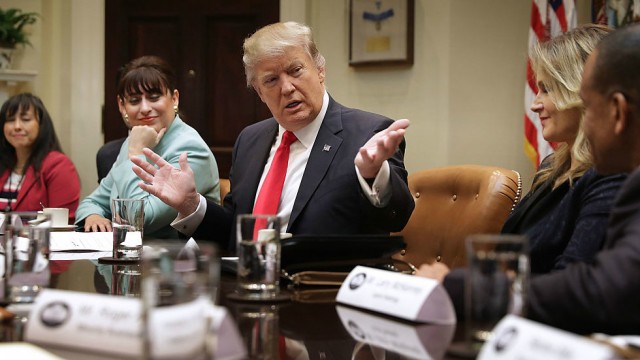 Entrepreneurs anxious to add jobs and spur economic growth are cheered by the president's new tax and regulatory initiatives.
This is a huge incentive for small companies to take the risk of expanding their operations beyond what they might otherwise contemplate, especially in a sluggish, low-growth economy where consumer confidence is still recovering from the Great Recession.
Its supporters, including the non-profit Tax Foundation, say full expensing will create a tipping point for small businesses to jump into the economy pro-actively, allowing more workers to be hired more rapidly.  Small businesses typically account for two-thirds of all new jobs created in the economy though some analysts say the figure is closer to just over half  or even just a third, if you only count the smallest of small businesses (those employing 50 employees or less).
Whichever measure is used, full-expensing is likely create a real job growth spurt – good news for small businesses and of course, good news for Trump politically, too.
But not everyone supports the new initiative.  In fact, other business conservatives inside the GOP – especially those representing larger corporations – see full-expensing as a threat to their larger tax-cutting agenda.  These Republicans prefer to prioritize Trump's call for a reduction in the corporate tax rate and worry that the already narrow path for tax reform cannot accommodate both provisions.
Like the complicated horse-trading on alternatives to ObamaCare, which eventually could not be managed, retaining full-expensing could prove to be a big challenge for Trump.
But it's one that holds enormous political potential.  Big business may contribute to super-PACS and help fund elections, but they are relatively few in number.  Small businesses are potentially a larger voting constituency than veterans, Hispanics or African-Americans.   The latest polls indicate that more than 60% of small business owners are highly optimistic about Trump and his agenda.
A decisive legislative victory on full-expensing could put even more of them squarely in the Republican camp – while providing real dividends for the economy.
It's worth noting that some of the highest rates of new business start-ups were recorded in states that are considered "in play" in national elections.  For example, Colorado, a key swing state, recorded the third highest rate of new business start-ups last year.  Nevada, another swing state, had the sixth largest rate.  And Arizona, a red state that is threatening to trend blue, had the highest rate.
The fate of full-expensing won't be decided until later this year.  But the implications seem clear:  along with other measures aimed at stimulating small business, including a new and badly-needed infrastructure bill, Trump's more "populist" approach to the economy could expand the GOP's political base in ways that past Republican – to say nothing of Democratic – candidates would hardly have imagined.