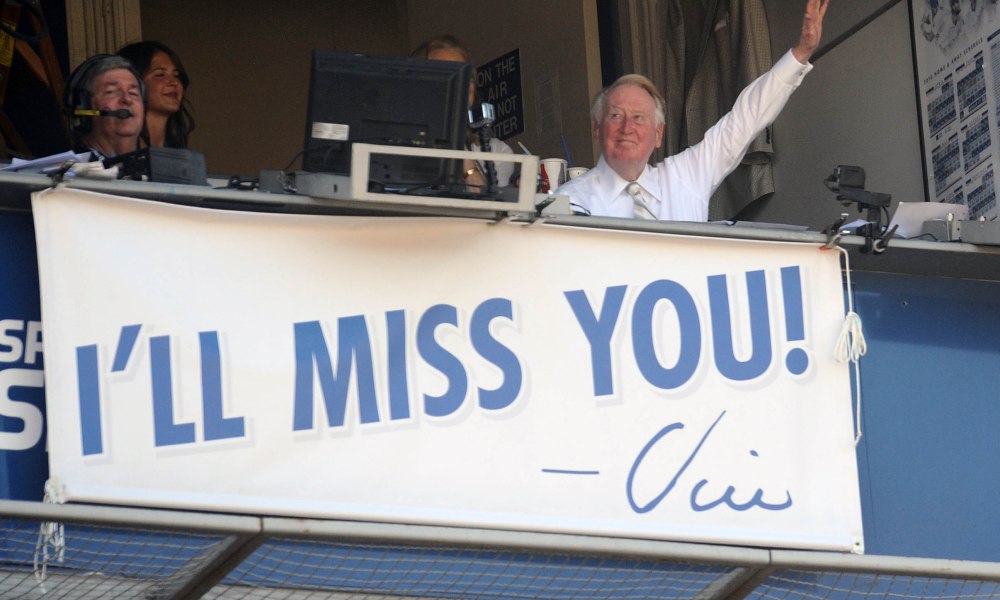 Legendary broadcaster says goodbye after 67 years with the Dodgers. Photo Credit: LA Times
Unfortunately, I was not able to hear the calling of Dodger games by Mr. Scully.  Due to the distance from where I grew up, the AM signals from New York and LA were not readily available, but listening to him call today's game, reminds me of some of the other great announcers that hooked me on the sport as a youth.  Men like Jack Buck of the St. Louis Cardinals, whose games I could hear on KMOX, to Gene Elston, Lowell Passe, and Harry Kallus, who called the Houston Colt 45s and later the Astros on WWL out of New Orleans, and Milo Hamilton, when the Braves arrived in Atlanta.
Most of my summer nights were spent by the old Zenith radio, letting one of those troubadours of sports take me to a distant place, using the words coming over the airways, often interrupted by a thunderstorm which created too much static to hear the broadcast.  I became hooked on the Houston franchise, partially because WWL was a clear channel station, and I remain loyal to them even today, because of the pictures I saw in my mind, based on those announcers' accounts of the games and the ballparks.
There are many great announcers on television and radio today, and I don't mean to downplay their skills or their contributions to the sport in any way.  But, I think even they would admit that few can spin a golden web of words that captures and holds the attention of a listener as well as did the Vin Scully's and some of the legends of radio broadcasting.
Listening to Scully today hast taken me back to that time, and for a while, I didn't even watch the video broadcast of today's game.  I just listened to his silky smooth voice and let the game play out in my mind, as I did in my youth.
Maybe I'm just nostalgic for a time gone by, but listening to his call of the game reminded me of just how a skilled craftsman, whether an author, playwright or baseball announcer, can take simple words, and turn them into wonderful pictures for their audience.
Like I said, I just listened to the audio, and I felt the warmth of the sun on my face, smelled the Dodger Dogs grilling, and heard the crowd cheer.  I don't think I missed a single pitch.
Thank you, Vin Scully, and all those like you.  You will be missed.