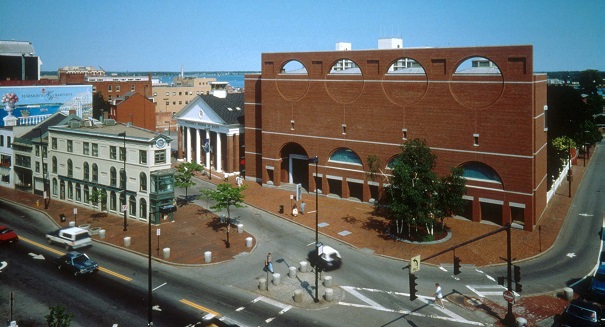 A new exhibit about maritime art in America is at the Portland Museum of Art in Portland, ME, through Apr. 26, 2015.
A new exhibit about maritime art in America is open at the Portland Museum of Art in Portland, ME. The Coast & the Sea: Marine and Maritime Art in America is a collection of paintings from 1750 to 1904 that reflect the role of the sea in the lives of those who shaped the United States. This exhibit from the New York Historical Society opened Jan. 30 and runs through Apr. 26, 2015.
From early settlement to international trade and maritime recreation, the sea represented both hope and uncertainty to the people of the U.S. Tall ships during the "Age of Sail" dominated the seas in times of peace and war. They brought immigrants to American shores, transported various supplies including textiles, furniture and ammunition, and endured battles in open waters and near land. As the ships waited in harbors for their turn to either dock or set sail, it was understood that it would be weeks or months before they reached their new destination.
The accomplishments and fates of these ships, naval officers and merchants tell the story of maritime history through more than 50 paintings. Famous American landscape artists of the 19th century painted some of the scenes about recreation and how shipping contributed to economic growth. The artist of Escape of the U.S. Frigate Constitution (1838), Thomas Birch, was considered the first American specialist of marine painting. The work shows the USS Constitution engaged in battle.
Not all American maritime history happened near U.S. shores. One work of the harbor of Canton in the mid-1800s is by an unknown Chinese artist. This reflects the China trade after the American Revolution.
The exhibit also contains selected examples of maritime artifacts. Among those items are navigational equipment used for determining latitude and longitude, silver dishes awarded for acts of bravery in wartime, and scrimshaw or decorative whale tooth carvings created by sailors during their off-watches.
Portland Museum of Art is the oldest art institution in Maine. It was founded in 1882 under the name of the Portland Society of Art. It consists of three buildings, one of which is a three-story, Federal-style house built in 1801 and listed as a National Historic Landmark since 1970. The museum also owns the Winslow Homer Studio at Prouts Neck, on the rocky Maine coast, where the artist often painted his seascapes.
The Coast & the Sea: Marine and Maritime Art in America will be traveling to other museums after it closes at the Portland Museum of Art. In 2014, it was at The Baker Museum in Naples, FL. Following Portland, it will be in Waterbury, CT, at the Mattatuck Museum, and ending the tour in Albany, late October 2015 through February 2016 at the New York State Museum.