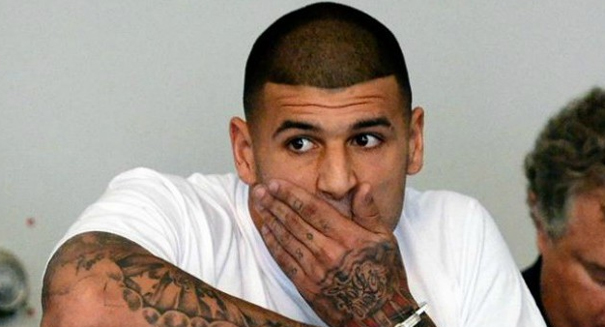 The Bristol County sheriff is against the idea.
According to a report from The Associated Press, former NFL football star Aaron Hernandez, who is currently being held at the Bristol County Jail on murder charges, wants to be transferred to a jail closer to Bean Town.
On Friday, the ex-tight end's attorneys said that communication between them and their client, as well as their client's safety, are jeopardized by Hernandez's current location.
Bristol County Sheriff Tom Hodgson wasn't keen on the idea, but admitted that a judge would have the ultimate say in the decision.
"It's up to the judge to decide that, but as a matter of practice, we wouldn't be able to do that for every inmate that has attorneys out of our jurisdiction. The corrections system would not be able to manage the population," Sheriff Hodgson said, according to the Boston Herald. "We've never had a situation where we moved someone to be closer to their attorneys."
The AP notes the Hernandez's lawyers have accused Hodgson of violating the disgraced football star's due process rights and privacy rights, alleging that the sheriff is using the murder suspect for "self promotion and virtually non-stop publicity."
His lawyers point out that Hernandez has had run ins with prison guards and other inmates.
Should a judge allow Hernandez to be transferred? Share your thoughts in the comments section.