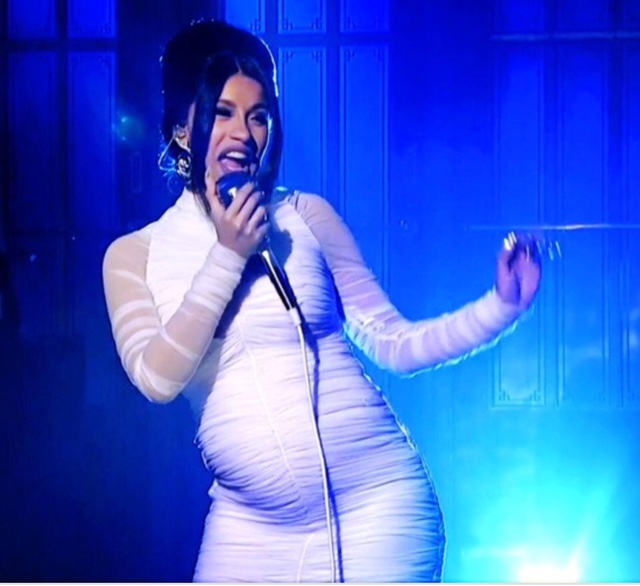 "…I think I underestimated this whole mommy thing." ~Cardi B
Since her breakout single "Bodak Yellow" swept the airwaves in June 2017, 25-year-old rapper Belcalis Almanzar, better known as Cardi B, has been an artist on the rise. Months before her debut album was released on April 5th, she was interviewed on daytime and late-night television, received several award nominations, and performed on the Grammys. On April 7, 2018, just two days after the release of her chart topping album Invasion of Privacy, Cardi gave fans and onlookers something else to talk about when she announced she was pregnant with her first child during her Saturday Night Live performance.
Over the next few months, Cardi B and her growing baby bump were everywhere. Through social media posts and glossy magazine articles, she expressed her excitement about being a wife and becoming a mother. On July 11th, three months after her classic SNL performance, Cardi announced the birth of her daughter Kulture. Two weeks later she posted this on IG: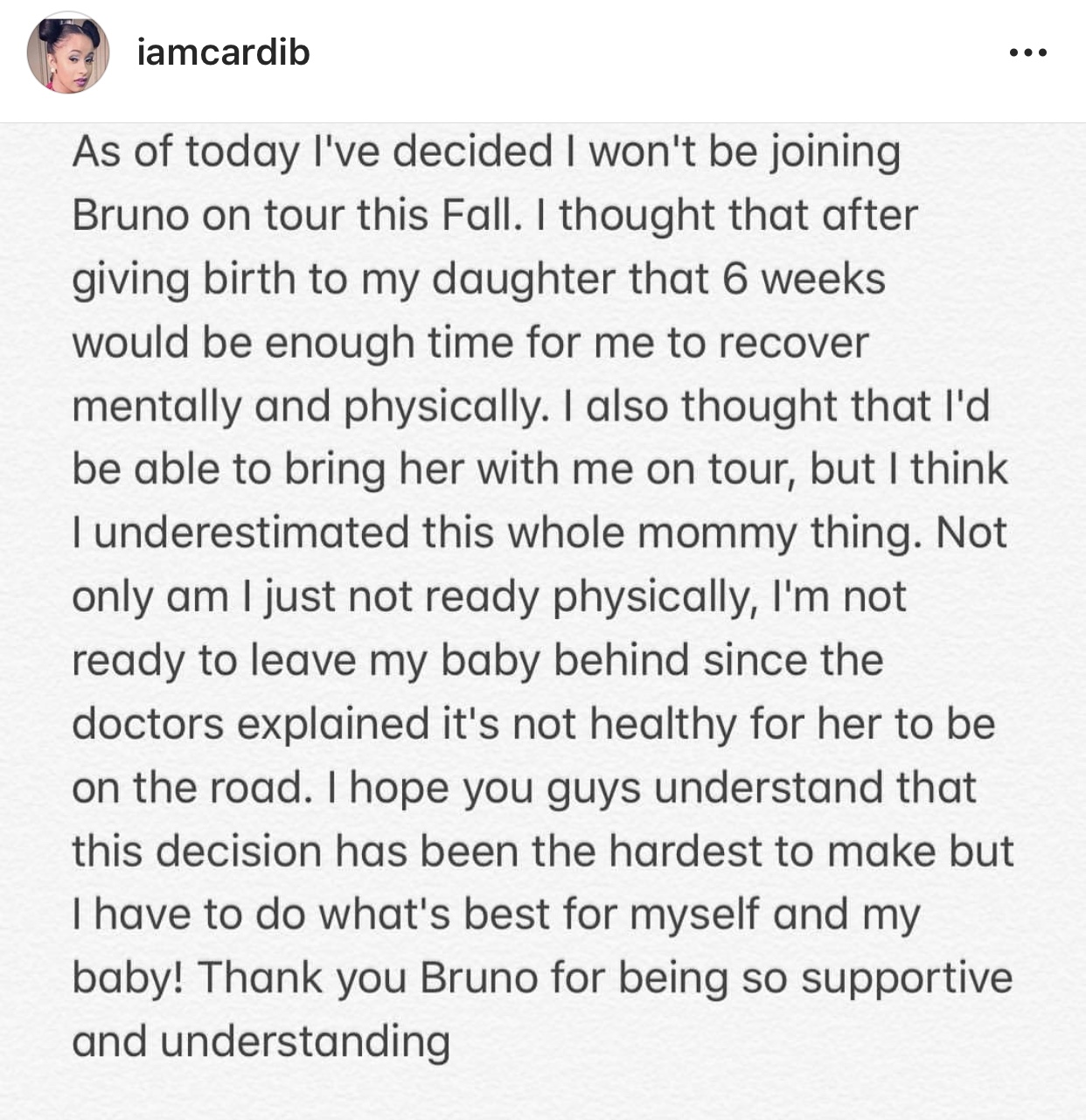 Motherhood is one of those experiences that defy preparation, regardless of the mother's age, income level, marital status, education, or other demographics. Equally defined as privilege and responsibility, motherhood is as old as time and can take on a variety of forms. No matter the specific details, the undeniable fact is motherhood shapes our present and future. It draws on every experience that predates it, and completely re-shapes each experience thereafter; yet it is becoming clear the role of motherhood in American society is shifting.
According to the Centers for Disease Control (CDC), the 2017 birthrate was just over 3.5 million births, down 2% from 2016 and the lowest rate in 30 years. Nearly every group of women in the U.S., except those 40-44, saw decreases in birthrates. There are a number of social and cultural factors that can explain this shift. Among these are the U.S.'s broken healthcare system which has left millions uninsured and resulted in many hospitals shutting their doors. Changes in the American workforce, particularly the increase in contractual labor and reduced likelihood of receiving maternity leave is another factor. Finally, the exorbitantly high student loan and credit card debt being carried by large numbers of 20- and 30-somethings cannot be ruled out. Like millions of Americans, I have been affected by all three, but like many, I nonetheless decided to embark on the journey known as motherhood.
I became a mother at 24, while I was a 2nd year doctoral student. Although my circumstance offered unique challenges, I had the love and support of my finance and our families. When our son was born, the faculty and staff at my university made accommodations for me, and I participated in community programs designed to aid "low income" mothers. Over the next three years, my husband and I had three more children. At that time, he was very supportive, and we found ways to balance parenthood together. However, like Cardi, even as a married mother, I sacrificed aspects of my career to care for my young children.
Now as a single mother, the reality of motherhood as a privilege and responsibility are a constant reality. Before I make any decision, whether business or personal, my initial thoughts are fixed on my children and how my choice will affect them. Yet for me, the sacrifices of motherhood have made me a better person.
This "whole mommy thing" is a remarkable, never ending journey that could never truly be quantified. As Cardi B acknowledged in her Instagram post, it is a physical and mental experience of epic proportions. Anyone who embarks upon it is yielding a piece of themselves in exchange, which is honorable. Salute to all those who have taken the motherhood leap. You are appreciated.