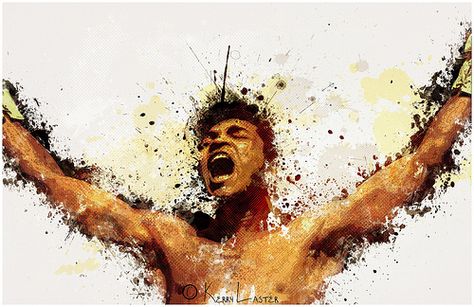 "Don't count the days, make the days count." ~Muhammad Ali
Muhammad Ali was an American boxer, now widely regarded as the world's most influential athlete. While his boxing career included several notable bouts and wins, it was his courage and bravado outside the ring that yielded the most acclaim. From his public conversion to Islam to his oppositional stance against the Vietnam War, Muhammad Ali did not shy away from taking bold action no matter the consequences. It is this attitude that has inspired me throughout my life.
Like Ali, I was born in Louisville, KY and raised near the banks of the Ohio River. I grew up hearing my father tell stories of Cassius Clay, Sr., Muhammad Ali's father. I remember seeing his wife at the hair salon owned by his dear friend and classmate Ms. Lillian. I cannot count the number of times I road down Muhammad Ali Blvd. or saw the exit sign from I-65. When I was 16, the honor of Olympic Torchbearer was bestowed upon me, and it was Ali who lit the flame at the Olympic Games in Atlanta. Throughout my life, Muhammad Ali's deeds and words have motivated me to push further and remain hopeful, even when all seemed lost.
As a single mother of four, pioneering uncharted territory in her career, I am infused by Ali's confidence and ability to push past the doubters. I am forever inspired by the ability he possessed, to turn his thoughts into things. Today, on the 76th anniversary of Muhammad Ali's birth, I am reminded of his will to win no matter the cost and the words he left behind for us to live by. The following four quotes have been sources of motivation for me, and I hope they encourage other mothers following their dreams.
"Impossible is just a big word thrown around by small men who find it easier to live in the world they've been given than to explore the power they have to change it. Impossible is not a fact. It's an opinion. Impossible is not a declaration. It's a dare. Impossible is potential. Impossible is temporary. Impossible is nothing."
Balancing entrepreneurship and motherhood has been a challenge. It became an even bigger challenge when I made the decision to leave my husband. Sacrificing the money, I needed for my business to take care of my children was a regular occurrence that I continue to navigate. Like all entrepreneurs, I face odds that scare off the faint of heart. Yet by accepting the dare of impossibility with the power of faith, I have already claimed the victory.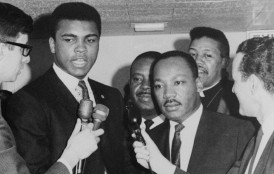 "He who is not courageous enough to take risks will accomplish nothing in life."
The journey of motherhood is filled with winding paths and challenges regardless of the specific circumstances. I entered the motherhood club as a 24-year-old graduate student full of aspirations, and courageous enough to share them with others. It was this introduction to motherhood that has allowed me to appear fearless in the face of life changing obstacles. And it is this brazen attitude that ensures I will accomplish all my hopes and dreams as an entrepreneur and mother.
"I hated every minute of training, but I said, 'Don't quit. Suffer now and live the rest of your life as a champion.'"
After 15 years together, I decided it was time to leave my husband with our four children. This was a difficult decision for several reasons, particularly the financial implications. The road became even rockier when I decided not to enforce child support once he made it clear he would not assume responsibility for the care of our children. Although my mind told me to abandon the ship of my dreams because of this bind, my heart told me to suffer now and live. Thankfully, I chose the latter.
"Only a man who knows what it is like to be defeated can reach down to the bottom of his soul and come up with the extra ounce of power it takes to win when the match is even."
Single motherhood was never on my radar. My parents were happily married until my father's passing, and for most of my life, I thought this too would be my path. When it became clear it would not, I prayed and stepped out on faith. This subsequent path has pushed me to reach beyond what I believed was humanly possible. I have sacrificed all my material possessions and even personal pleasures to pour my all into my children and vision. I have tasted defeat, and have had to search my soul to continue along this path. Reminding myself of Ali's words has helped feed my will, allowing me to come out ahead.
Dreaming big and turning thoughts into things requires a special kind of determination, that was flawlessly illustrated through the life of Muhammad Ali. Daring to dream while raising children as a single mother has been one of my greatest triumphs. And while I am grateful for all my sources of motivation, on this day I honor 'The Greatest'. Happy Birthday Muhammad Ali.