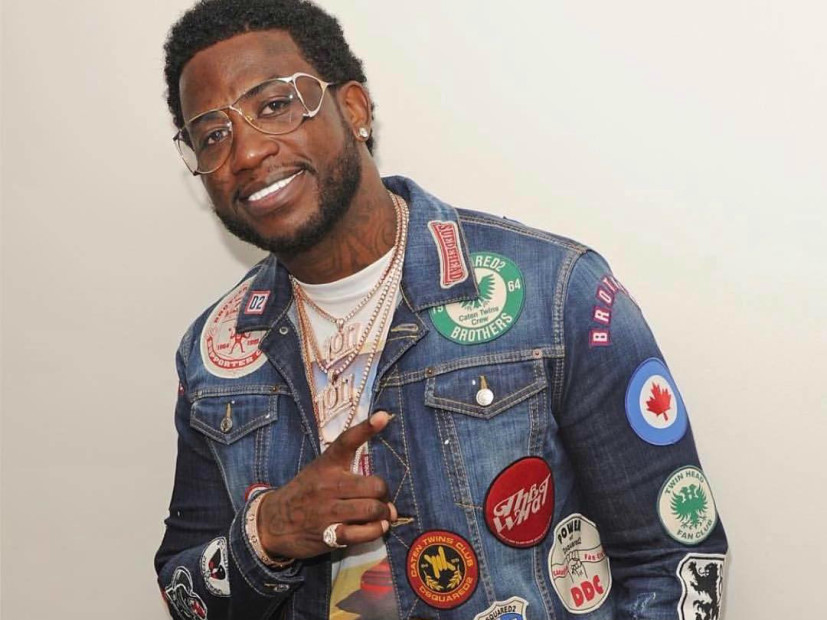 I'm my best friend, and I'm my worst enemy, and no one else can hurt me unless I let them. Is you feelin' me? ~Gucci Mane "Worst Enemy" (2009)
Rapper, actor, and author, Radric "Gucci Mane" Davis is one of the most influential artists of this decade. His gritty lyrics candidly reveal details about life in the "trap" (a house where drugs are sold), his family, ambition, drug use, criminal history, and successes.
Born in Bessemer, Alabama, and raised by his mother, with the help of extended family, Gucci Mane's beginnings resemble that of many Black youth growing up in working class neighborhoods during the mid to late 1980s. At age 9, Gucci, his mother, and older brother moved to DeKalb County, Georgia, just as crack cocaine was beginning to wreak havoc on a generation. It was this environment that laid the foundation for Gucci's famous trap rap style.
As a young adolescent, Gucci entered the world of drug dealing, but unlike many of his peers who ventured down this same path, he graduated from high school with a B average. Yet this accomplishment did not deter his continued involvement in the dope game. By 2001, the inevitable arrest happened; the first of many over the next 12 years. During this time, he also began abusing prescription opioids and opiates, which affected his behavior and appearance. Despite addictions, run-ins with the law, and repeated court appearances, Gucci Mane carved out a successful career, producing numerous hits and gaining widespread recognition, particularly throughout the Southeast.
In 2013, his self-sabotaging behavior caught up to him, and he was forced to confront his lifestyle choices head on. Gucci was charged with felony possession of a firearm, and appeared before a federal court judge, facing a 20-year sentence. In the end, he took a plea deal and served two years in a high-security U.S federal penitentiary.
Gucci's history of illegal activity going back to his adolescence is an all too familiar storyline for Black youth in this country, but unlike many, he avoided adjudication, which was a major key to his attaining a high school diploma. According to a 2013 report by The Sentencing Project, a Washington, D.C.-based prison reform advocacy group, Black youth account for 16% of all children in America but they make up 28% of all juvenile arrests. Adolescents who spend time in secure detention are far less likely to attain a high school diploma. Based on a June 2014 report by a consortium of seven national research centers, the national four-year graduation rate for Black males is 52%. However, Gucci Mane's story is a reminder that avoiding incarceration, and even graduating high school are not the goal; purposeful living is.
As a doctoral student, my love of rap music and desire to expand the field of psychology by helping young people find their voices inspired me to create H.Y.P.E.: Healing Young People thru Empowerment. H.Y.P.E., a 12-session Hip Hop Therapy curriculum, was designed for youth whose paths are similar to Gucci's. H.Y.P.E. engages youth by presenting rap songs which address depression, disruptive behaviors, and goal setting by artists including Tupac, Nas, and yes Gucci Mane. Participants also complete activities based in cognitive behavioral, psychodynamic, and humanistic theoretical orientations. Since 2008, youth in 10 states have participated in H.Y.P.E. workgroups.
In a 2012 evaluation conducted by the University of Puerto Rico Center for Evaluation and Sociomedical Research (CIES) of the Graduate School of Public Health, participants agreed that H.Y.P.E. gave them a chance to express themselves. Participants, who included youth from group homes, probation departments, and family services agencies, also strongly agreed that the H.Y.P.E. curriculum helped them to:
Set goals (77%)
Process their feelings/behaviors (77%)
Deal with their struggles (61%)
Feel more in control of their lives (61%)
Haters talking don't worry me, all they do is encourage me. I'm a worldwide executive, neighborhood celebrity. And ain't nothing in this world gon' stop me from getting currency. ~Gucci Mane "Pick Up The Pieces" (2016)
Upon release from federal prison on May 26, 2016, Gucci Mane let the world know he was a changed man. His appearance alone was an indication that something different was happening. On May 27th, he released the song "1st Day Out Tha Feds", which was streamed over 1,000,000 times within 24 hours of going live. Several months later, during an Atlanta Hawks basketball game, he proposed marriage to his girlfriend of 7 years, Keyshia Ka'oir. In the 14 months since leaving federal prison, Gucci has released four studio albums, three mixtapes, and has gone on three tours. On September 19, 2017, Gucci ventured into the literary arts with the release of his first book "The Autobiography of Gucci Mane." Throughout the book, which explores his family's origins and offers a timeline of his life from birth to the days leading up to his release from federal prison, he discusses the necessity of nourishing one's spirit with positivity.
Since finding his voice, Gucci Mane is becoming an advocate for purposeful living. His private life has been on display for over 10 years, which makes his turnaround so remarkable. Gucci's journey is proof that money is not THE answer and it is never too late to make a change. By speaking frankly about his self-described PTSD-like symptomology, and addiction to Codeine and Percocet, he is using his platform and the influence of Hip Hop culture to bring awareness to emotional wellness. This is particularly powerful as the stigma of mental health is subsiding in the Black community.
Hip Hop culture has been the voice of the disenfranchised for over 40 years. Through artists like Gucci Mane and programs like H.Y.P.E., a new focus on emotional wellness can be infused into the culture, and shift the life experiences of a generation. By using culturally relevant interventions that go beyond simply "keeping kids out of trouble," to motivating them to live purposefully, we can reverse the disparities in juvenile justice, substance abuse, and violence, inspiring youth to dream again.