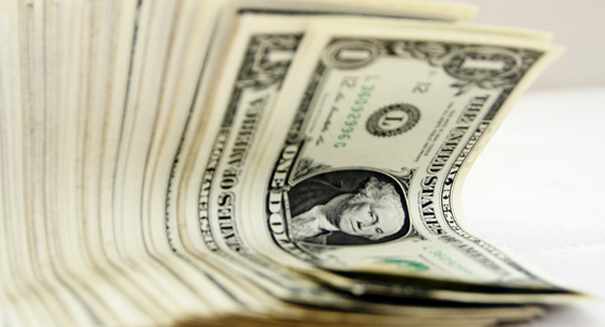 A strong dollar could hammer companies that rely heavily on revenue from foreign markets.
A strong dollar could crash the S&P 500 — at least that's what one report is claiming.
The dollar has been on a steady rise as the U.S. economy shows signs of recovering and the European economy continues to struggle, but a strong dollar can be very problematic for U.S. companies, states the Investment U report.
The report included a chart that shows how the U.S. Dollar Index compares to an index of 47 S&P 500 companies that get 50 percent or more of their revenue from foreign markets. The gap between the two indexes is large and continuing to widen, and if the trend continues, it could be a drag on the S&P 500.
The report quotes Campbell Harvey, who is a professor of finance at Duke University, who states that there is an "ugly contest" between the eurozone, Japan, and Canada to see who can debase their currency the most against teh U.S. dollar, with the eurozone the likely victor.
A Reuters report, meanwhile, indicated that the recent decline in the U.S. dollar has meant an uptick in oil and equities prices. It was the biggest weekly decline against the euro in more than three years, which helped fuel a rally on Wall Street.
Despite the drop, the dollar is still up more than 20 percent since the middle of last year, an ascent that has been helped by U.S. stocks in the face of a growing economy.
The S&P 500 snapped a three-week losing streak on the news, and the euro was on pact to increase in value by the largest amount against the dollar in years.
The S&P 500 is a stock market index that is based on the market capitalizations of 500 large companies that have stock listed on exchanges. It is considered by many to be the best representation of the U.S. stock market and a bellwether for the economy.