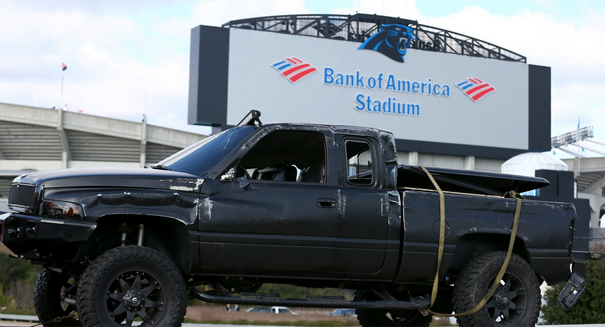 The crash involved two cars and happened off of I-277, which forms a partial loop around downtown Charlotte.
A car carrying Carolina Panthers starting quarterback Cam Newton has crashed and overturned on a bridge over I-277 in Charlotte, according to an early report from the local newspaper.
The Charlotte Observer reported that the crash happened at 12:30 p.m. today and ambulances are currently on the scene, with a second car also involved. It happened on Interstate 277 near Hill Street.
A photographer from the newspaper who responded to the incident said Cam Newton was injured, although there are no details on his condition yet. Mark Becker, a reporter for WSOC-TV in Charlotte, tweeted that Newton's truck flipped four times, and he was taken off on a stretcher.
Authorities have shut down Church Street at Stonewall.
Cam Newton is the starting quarterback for the Carolin Panthers in the National Football League, and played college football for the Auburn Tigers, where he won a Heisman trophy and a national championship, becoming the first overall pick in the NFL draft in 2011.
In 12 games this year, Newton has thrown for 2,812 yards, 16 touchdowns, and 11 interceptions for a passer rating of 81.8, the lowest of his career, but not significantly below that of his breakout rookie season. He has also rushed for 425 yards and three touchdowns.
In a litte less than four seasons with Carolina, he has amassed more than 14,000 passing yards and 80 touchdowns.
His team is 4-8-1, but is only a half game out of the division lead in the NFC South behind the New Orleans Saints and Atlanta Falcons.