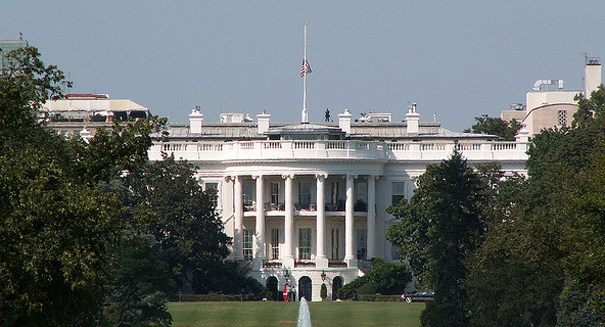 A fire in a souvenir truck parked next to the White House causes the a temporary lock down.
The Obama Family's trip to Selma, Alabama was delayed by a car fire on a street adjacent to the White House.
Just as Barack, Michelle, Sasha, and Malia were gathering on the South Lawn to board a helicopter to take them to Andrews Air Force Base, an explosion was heard nearby. The family was quickly taken back inside the White House.
Secret Service spokesman Brian Leary said that explosion and subsequent fire was caused by a souvenir truck owned by a Korean family who did not speak any English.
The fire was contained and a bomb-sniffing dog investigated the remains. When the dog found something suspicious, the truck was removed from the scene.
After about an hour, the Obama family went to the Air Force Base by motorcade instead of by helicopter. There, they boarded Air Force One and continued onto Selma, only slightly late for the commemoration of the civil rights march that took place there 50 years ago.
Several streets around the White House were closed for some time longer. Tourist activities in the area were also interrupted. Everything returned to normal shortly after noon.
The souvenir truck was completely destroyed by the fire.
This is just the latest in several White House lock downs that have occurred over the past few months.