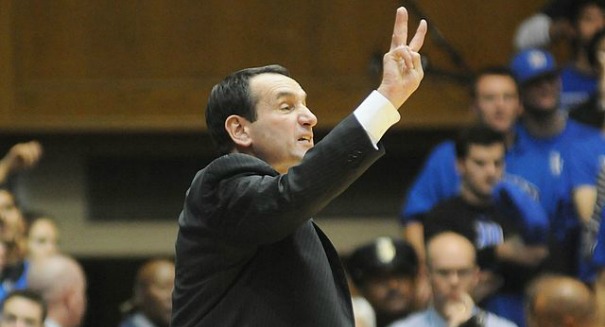 A report by Duke's student newspaper quotes multiple sources as saying that Krzyzewski knew about the allegations as early as March of 2014, but didn't dismiss Rasheed Sulaimon until January of this year.
Duke University and its legendary basketball coach, Mike Krzyzewski, don't appear interested in discussing recent allegations that former player Rasheed Sulaimon had been involved in sexual assaults before he had been dismissed from the team in January.
A report in Duke's student newspaper The Chronicle cited multiple sources as saying that Krzyzewski knew of the allegations as early as March of 2014, but didn't dismiss Sulaimon from the team until Jan. 29, according to wire reports.
Krzyzewski said in a statement upon his dismissal that the junior guard had "repeatedly struggled" to live up to the basic standards of the team. Sulaimon was the first person to dismissed by Krzyzewski during the coach's long career. He is still a student at Duke.
Asked repeatedly about the allegations during an ACC coaches' conference call, he responded, "I don't have any comment on that." The university said that the student confidentially law prevented them from having any public comment on the matter.
The Chronicle story alleged that two women had accused Sulaimon of sexual assault, but avoided reporting the incident to campus authorities or to the police over fears of the team's fans retaliating against them. They say that they were sexually assaulted during student-led diversity retreats known as Common Ground.
One of the women claimed she was assaulted in late 2013, while the other said her incident occurred in February 2014.
Mike Krzyzewski, nicknamed Coach K, has been the head coach of Duke since 1980, and he has led the Blue Devils to four NCAA championships, as well as 11 Final Fours and 12 ACC regular season titles. In addition, he is the head coach of the United States men's national basketball team, which won gold medals in the 2008 Summer Olympics and the 2012 Summer Olympics.