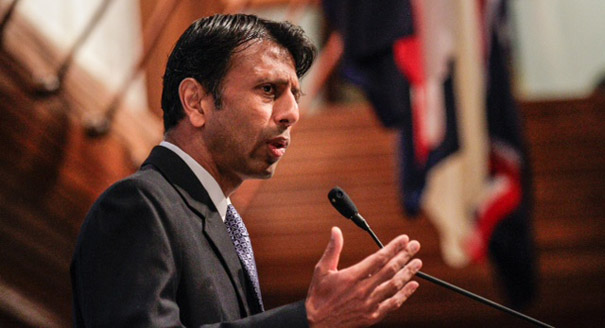 Jindal argued that repealing the health care law was a linchpin of Republicans' campaign efforts in the hugely successful 2014 midterm elections, and the GOP shouldn't get away from that now.
Louisiana Gov. Bobby Jindal said Republicans are afraid to act against President Barack Obama's health care law, despite their strong rhetoric about the issue.
Jindal, who is considered one of the candidates for the Republican 2016 presidential nomination and is currently serving his second term as governor of Louisiana, said that repealing the health care law, also known as Obamacare, was the GOP's signature issue in the 2014 midterm elections but the party was failing to act on it, according to an Associated Press report.
Jindal told reporters after speaking at the anti-tax Club for Growth's winter meeting that Republicans are "fearful of being criticized for putting anything out there that could be attacked," according to the report.
However, he noted that when the Republicans took over the Senate in 2014 and expanded their lead in the House, it was driven by the GOP's campaign of getting rid of Obamacare, which is more formally known as the Affordable Care Act.
The Club for Growth meeting is attended by 200 fiscal conservatives and ends Saturday. Six GOP presidential candidates were scheduled to speak at the event, including Jindal, former Florida Gov. Jeb Bush, Texas Sen. Ted Cruz, Wisconsin Gov. Scott Walker, Florida Sen. Marco Rubio, and Indiana Gov. Mike Pence.
The Club for Growth is so important for early conservative candidates because it is widely respected in GOP circles for its reviews of candidates' records on issues such as spending and taxes, and its political action committee has been influential in past campaigns. It has never endorsed a candidate, but said that could change in the 2016 race.
The Affordable Care Act was a federal statute signed into law by President Obama on March 23, 2010. It represented a regulatory overhaul of the U.S. healthcare system, the first major attempt to do so since the passage of Medicare and Medicaid back in 1965. Its purpose was to increase both the quality and the affordability of health insurance and encourage Americans to get insured if they weren't before.