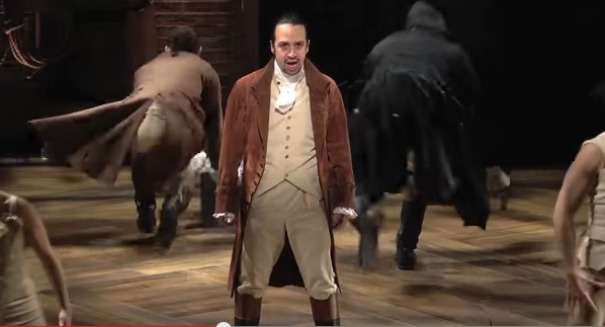 The play will run through May and is headed up by Tony winner Lin-Manuel Miranda, who both created the play and stars in the titular role as Alexander Hamilton.
The off-Broadway play "Hamilton" has debuted at The Public Theater on Tuesday amid much anticipation.
The play, which was created by Tony winner Lin-Manuel Miranda, also stars Miranda, who plays Hamilton in the musical along with Christopher Jackson as George Washington, Leslie Odom Jr. as Aaron Burr, and Brian d'Arcy James as King George, according to Broadway.com.
The play is directed by Thomas Kail, and will play through May 3. It is inspired by the book Alexander Hamilton by Ron Chernow, and follows the young immigrant Hamilton as he begins as a bastard orphan and eventually ascending to George Washington's right-hand man.
It also describes his role in the nation's first sex scandal, to his position as head of the Treasury where he had to get the world to trust the American economy, and eventually lead to his confrontation with Aaron Burr.
Other castmembers include Phillipa Soo as Eliza Hamilton, Anthony Ramos as John Laurens/Phillip Hamilton, and Daveed Diggs as Marquis De Lafayette/Thomas Jefferson.
d'Arcy James is expected to leave the play on March 1 for production of Something Rotten on Broadway, and no official replacement has been named.
The play earned some early praise from critics, including Michael Giltz of the Huffington Post, who said that he would "gladly see the show again right away just for the many talented performers and Miranda's groundbreaking score," noting that he did expect some improvements to the play before its "inevitable Broadway transfer."
He said that the play succeeds because instead of descending into farce, the play has reverence for its subject and celebrates their battle of ideas. The play, he said, treats them as people rather than as caricatures or as living legends that people can't relate to, allowing the musical to come alive.