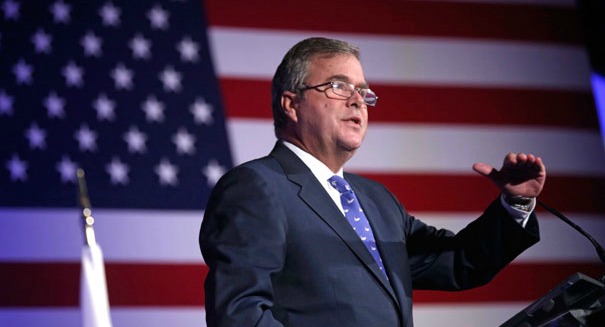 Although the news doesn't mean other GOP candidates are sunk, it does further establish Bush as the clear frontrunner for the Republican nomination.
Jeb Bush's candidacy for president really only began in earnest a few weeks ago, but already he is leaving his competition behind when it comes to donors.
Bush's two political committees are on pace to raise an unprecedented amount of cash — tens of millions of dollars — by the early spring, which would place him overwhelmingly above potential competitors for the GOP nomination for a 2016 White House bid, according to a Washington Post report.
It appears that the wealthiest of donors have quickly moved to back Bush now that Mitt Romney, who likely would have been his biggest competition for donor dollars, has bowed out of the race.
The Post reported that Bush pulled in at least $100,000 each from 25 attendees at a recent fundraiser in Manhattan, one of six events scheduled for Bush's political action committee. He has another scheduled next weekend in Palm Beach that will sports a similar minimum price tag.
Bush has been clamoring for that money, and he is hosting fundraisers at an average of one per day, something that no other Republican competitor is likely to be able to compete with.
It means that other GOP candidates have their work cut out for them, such New Jersey Gov. Chris Christie, Wisconsin Gov. Scott Walker, former Texas Gov. Rick Perry, and Kentucky Sen. Rand Paul, to name a few.
However, don't just write off everyone else yet. There is still plenty of time for rivals to catch up, mainly because of how the rules of the game are set. Super PACs are able to collect an unlimited amount of money, and the amount of potential donors has expanded in recent years.
The financial momentum is certainly further pushing Bush's case that he is the frontrunner, and perhaps the best candidate to defeat a Democratic nominee — perhaps clear frontrunner Hillary Clinton.
There is concern among Christie's camp that interest in his campaign is flagging, with most of the remaining money not going to Bush appear to be headed to Gov. Walker instead. However, Christie supporters argue that he is still getting strong interest from major donors.