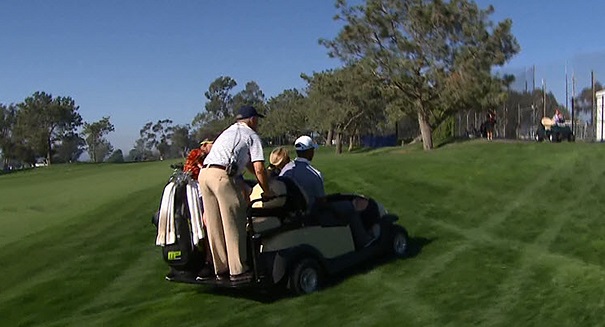 As Woods approaches 40 years old, questions arise as to how long his body can hold up to the stresses of competition.
On Thursday, Tiger Woods pulled out of the Farmers Insurance Open at Torrey Pines, a course where he has won eight times, citing pain in his back and glutes. He missed three-and-a-half months of competition following back surgery last year, and continues to struggle with his physical condition. Despite his perpetual optimism, it is obvious that he is hurt.
Woods is 39 years old, an age when history shows that American golfers' performance levels drop precipitously. He has struggled with his health for years. Surgery to remove fluid in his left knee in 2002, arthroscopic surgery for cartilage damage in 2008, stress fractures of the tibia the same year, inflamed neck joints in 2002, Achilles' tendon and knee problems in 2011 and 2012, elbow issues in 2013 – he survived all of them and in 2013 was able to win five PGA tour of events and was named player of the year.
Now it is his back, which is what caused him to pull out of Farmers on Thursday and also to withdraw last August at Bridgestone. He has struggled to even make the cut in the past year, including in a charity event he hosted in December at the Isleworth Golf and Country Club near Orlando, a course where he has been dominant in the past. In that tournament he tied for last, 26 strokes back. Once on pace to break Jack Nicklaus' record of 18 major championship wins, Woods is now falling behind, not having won a major in six years.
Woods insists that he is fine and the back is not an issue any more. Yet in the past year he has failed to complete a Sunday round six times, three due to withdrawals and three for not making the cut.
Despite everything, Woods is still a tremendous draw for the game. On Thursday he was playing with Billy Horschel and Rickie Fowler in the Farmers Insurance Open first round, and when he pulled out the crowd disappeared. What had been a following five-deep along the ropes dwindled to little more than family and friends. Horschel joked that "we became chopped liver," saying they went from 600 or 700 people watching to about 50.
The Honda Classic in three weeks is Woods next scheduled tournament. Despite his failing body, the event is anticipated to draw a crowd both in person and on TV simply because of Woods' involvement. Tim Finchem, PGA Tour commissioner, said he thinks everyone in the world is going to want to see how Woods is going to play, because he is struggling so badly after being so dominant for so long.
Finchem says that people want to see Woods play golf, no matter how he is playing. That pull has carried golf for the nearly 20 years, and critics are beginning to question what golf without Tiger Woods might look like. Finchem thinks Woods still has "about a 10-year shelf life." With his physical problems that estimate is highly debatable, particularly after the world watched their star being carted off the course Thursday in the middle of a round.