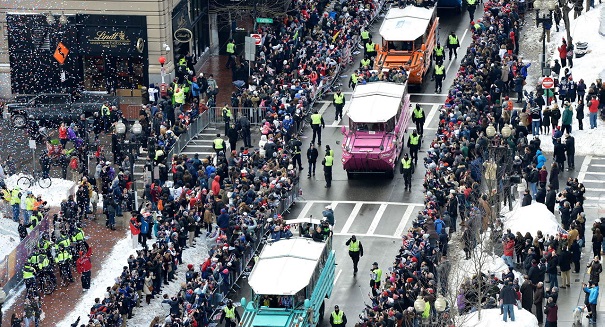 Thousands line the streets of Boston to celebrate Super Bowl XLIX champions, the New England Patriots.
Massive snow banks, narrow streets and freezing cold temperatures could not stop thousands of people from attending the Patriots' duck boat parade in downtown Boston. People of all ages turned out to show their support for their favorite football team. Boston has had several snow days over the past two weeks, yet faces of young children could still be seen scattered throughout the crowd.
The parade started at the Prudential Center, travelled down Boylston St. to Tremont St. and finished at City Hall Plaza. The mayor had urged spectators to use public transportation, making it easier for the huge vehicles to maneuver the city streets.
More than a dozen buses filled with Patriot players, coaching staff, broadcasters and family members  left the Foxboro stadium at 10:00 a.m. heading towards Boston for an 11:00 start time. Some fans had been bearing cold temperatures since early morning in anticipation of their arrival.
Wide receiver Julian Edelman, tight-end Rob Gronkowski, and quarterback Tom Brady were just a few of the names shouted out in a roaring response. Gronkowski, wearing a yellow minion hat, was tossed a beer, opened it with his teeth and downed it in seconds flat. Edelman was dancing on top of the vehicle, at one time even holding a picture of Seattle Seahawks cornerback, Richard Sherman. Sherman is seen on the poster holding up four fingers with caption, "How many rings does Brady have?"  The crowds were wild chanting, "We want five." This is Tom Brady's fourth celebration duck boat parade, the first was for the 2001 season championship.
New England Patriots fans have been waiting for 10 years to attend  another Super Bowl victory parade. There had been some talk about delaying the parade until the weekend, but today's midweek date prevailed. Today will be the last order of business for a while for many of the team and staff. Very few actually live in the New England area and will be travelling across the country to celebrate with friends and family members.