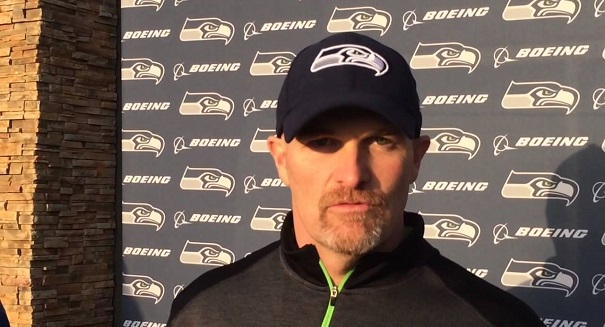 Dan Quinn officially signs 5-year deal with Atlanta Falcons.
In the weeks leading up to the Super Bowl, the National Football League saw an astounding 14 coaching changes, seven of those changes being head coaches. Not even 24 hours after the Super Bowl, the ever changing league saw yet another. Dan Quinn, who just Sunday was coaching the Seattle Seahawks defense in the Super Bowl, will take the helm of the Atlanta Falcons as their 16th head coach.
Quinn signed the 5-year deal early Monday morning, following Seattle's loss to the New England Patriots in the Super Bowl on Sunday. Falcons Owner and Chairman Arthur Blank in a press conference Monday that this is an exciting day for both the Atlanta Falcons organization and its fans. "Dan is a talented football coach who has a deep and diverse history in the game, which will serve the team well."
Quinn, having spent his last two seasons building Seattle's unstoppable defense, was the primary target for the Falcons'organization. He began his career as the defensive line coach at William & Mary in 1994, Quinn swiftly began to establish himself and rose to the level of defensive coordinator at Hofstra University. Leaving Hofstra after the 2000 season, Quinn would try his luck in the NFL as a defensive quality control expert in San Francisco with the 49ers.
After four years with the 49ers, Quinn again left to coach the defensive line of the Miami Dolphins. He only spent two years there, then spent the next two seasons with the New York Jets before his first gig with the Seahawks in 2013. Quinn spent his short time in Seattle building an unstoppable defense, one that arguably rivals that of the '85 Chicago Bears. He brings his defense expertise to a football team that desperately needs it. Giving up 6,372 yards this season, the most in the NFL, they haven't been one of the top 10 defenses since the 2000 season. They ranked 27th in points given up and against the run they ranked 21st.
"I am grateful for this opportunity, and am excited to be the head coach of the Atlanta Falcons," Said Quinn. "This felt like the right fit from the beginning, I want to thank Mr. Blank for his resolve as this was an extended and complicated process." As this is Quinn's first NFL head coaching job, he must learn the ropes quickly if he wants to have a chance of building a super star team like the one he coached at the Super Bowl. Fans and franchise personnel alike pray Quinn brings defense back to the Falcons.