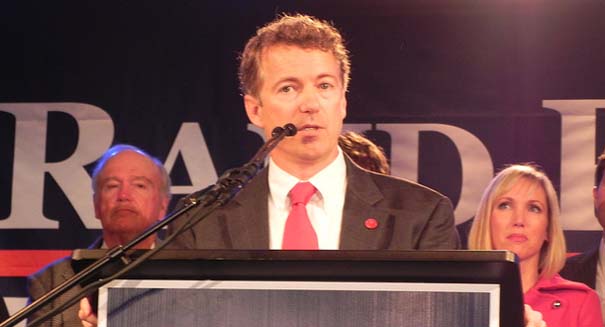 Paul's spokesman sidestepped questions about evidence that vaccines cause mental disorders, saying instead that the senator simply wanted vaccines to be voluntary.
Add prominent libertarian-leaning Republican Sen. Rand Paul of Kentucky to the list of vaccination opponents, arguing in an interview with a reporter that vaccinations should be voluntary due to his belief that they can cause mental disorders.
The 2016 GOP presidential hopeful had a combative interview with CNBC's Kelly Evans, at times yawning, interrupting, and even shushing her throughout the segment, calling her argumentative and stating that Evans conducted a "slanted" interview that was not informative to the public, according to a CNN report.
Paul, an ophthalmologist, said he's heard about cases where vaccines cause mental disorders in normal children. He said that while he doesn't think vaccines are necessarily a bad idea, the "parents should have some input."
Pressed for evidence of the claims, which the scientific community has largely rejected, Sergio Gor, Paul's spokesman, sidestepped the question and said that Paul largely supports vaccines, and simply wants them to be voluntary.
He further noted that Paul "believes that vaccines have saved lives, and should be administered to children," and that Paul's own children were vaccinated. However, he continued to state that vaccines should be voluntary "like most medical decisions," according to an email to CNN.
Anti-vaccination beliefs tend to be strong among libertarian circles, which are often skeptical of mainstream thought on a variety of political and scientific topics. Rand Paul's anti-vaccination comments are in line with those of his father, former Rep. Ron Paul, a popular figure in the libertarian movement, who argued during his past presidential runs that people have had "very serious reactions" to vaccines.
Former Rep. Michele Bachmann faced problems for her anti-vaccination remarks during her presidential campaign in years past. She was criticized heavily for suggesting that vaccines put the lives of children at risk, which only increase skepticism from the public about her viability of the public and causing her to appear as a fringe candidate. She soon dropped out of the race.