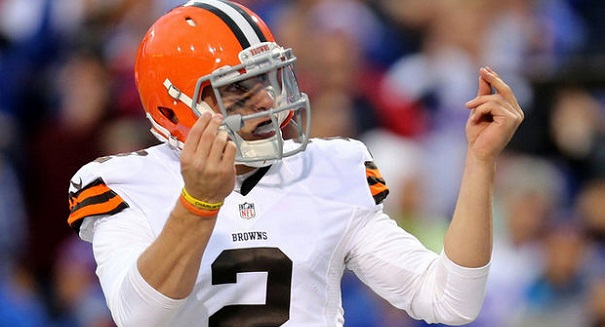 Many skeptics have doubted that Manziel will excel in the NFL.
Celebrity quarterback Johnny Manziel has voluntarily chosen to enter a rehab program following his tumultuous first season with the Cleveland Browns.
The 22-year-old Manziel, who dazzled during his brief time at Texas A&M University, failed to make a positive impact during his rookie year as a professional football player. Instead of performing well on game days, Manziel garnered a notorious reputation in the press for his exploits off the field. His regular appearances at night clubs during the season and alleged struggle with alcoholism have made the young quarterback the target of intense media scrutiny.
Aside from his extra curricular activities, Manziel has long been a contentious figure based on his unique style of play. Although a prolific scorer in college who frequently outwitted defenses with his elusiveness, many skeptics have doubted that Manziel will excel in the NFL.
Similar to the case of fellow Heisman Trophy winner Tim Tebow, analysts have argued that only true "pocket passing" quarterbacks stand a chance to compete at the professional level. While Tebow and Manziel play a position which primarily throws the football, both achieved major success at college when choosing to run downfield. Detractors of this unconventional style suggest that professional defenses are more intelligent and ruthless when it comes to preventing a quarterback "scramble." Additionally, Manziel's diminutive stature makes him an injury risk when absorbing repeated punishment from aggressive defenders.
Manziel is hardly the first quarterback to struggle in the NFL amidst immense expectations. In 2007, LSU standout JaMarcus Russell was selected first overall by the Oakland Raiders but was cut less than four years later. Russell has become infamous in NFL history for an extended contract dispute which left him ill-prepared during his first year with Oakland. Many pointed to his $36.4 million dollar guaranteed salary as the culprit for Russell's dismal and short lived career in the NFL. Last year, Manziel made headlines for flashing the universal "money sign" to cameras during his draft selection, leading critics to question his professional motives.
After a year of generating publicity for all the wrong reasons, rehab might be the best option for Johnny Manziel. Even his parents have spoken out about their son's mounting stack of legal and personal issues, insisting that "Johnny needs structure all the time, because down time for Johnny is the worst time." Manziel has also been roundly reprimanded for his antics by the owner of the Cleveland Browns, who has flatly stated that the quarterback "has to show on and off the field he can be a professional." Teammates, both openly and anonymously, have voiced feelings of discontent over the negative buzz surrounding Manziel, although cornerback Joe Haden remains optimistic.
However long it take Johnny Manziel to get his personal affairs in order, the Cleveland Browns expect him to be back and prepared for the 2015 NFL season.