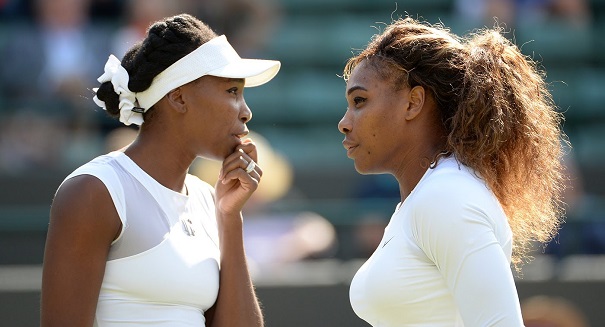 The Williams sisters' longevity in tennis is unprecedented. Since 1997, at least one of the Williams sisters has been in a major final every year counting singles, doubles and mixed doubles.
Serena Williams is in the Australian Open final and will play Maria Sharapova on Saturday. For her part, Venus Williams reached the quarterfinals. While this feat is impressive all by itself, it is even more impressive due to the fact that this is the nineteenth consecutive year that at least one Williams sister has been in a major final of singles, doubles or mixed doubles starting with Venus' run to the U.S. Open singles final in 1997. The WTA website lists the major finals featuring either Venus and/or Serena.
Martina Navratilova comes the closest to the Williams sisters' longevity by making a major final for 17 consecutive years. Her run started by making the Australian Open singles final in 1975 and ended with a runner-up finish at the U.S. Open in 1991. Though she would go on to at least play in the final match at a major for an additional seven years, they were not consecutive.
Of course, Navratilova is only one person while the Williams sisters are two. Not to diminish Navratilova's accomplishments at all, but it can be argued that the game is much more physical than it ever has been. Most of the Williams sisters' rivals from the 1990s and 2000s have long retired. Two of their biggest rivals, Kim Clijsters and Justine Henin, both of whom are younger, have retired from tennis, unretired and retired again.
Another rival who also broke into the tennis elite around the same time is Martina Hingis who's a few months younger than Venus. She has already retired, unretired, retired again, and then recently unretired again to play doubles.
Navratilova is one of the best tennis players ever. Again, not to diminish Navratilova's career, but it can also be argued that women's tennis is much deeper than it ever has been. Navratilova's chief rival and nemesis was fellow all-time great, Chris Evert. Their rivalry is considered one of the greatest rivalries ever – in any sport. They played an unprecedented 80 matches against each other. In the 1970s and 1980s, you could almost pencil the two of them into the semifinals of every tournament.
Venus and Serena's biggest individual opponents have remarkably been each other. They have played each other 25 times. No other woman has played either sister more. For a comparison, the biggest current rivalry in men's tennis is Novak Djokovic versus Rafael Nadal. They have played each other 42 times. Since both Nadal and Djokovic are in their late 20s, it seems a safe bet that they will play many more times, but not near 80 times. In fact, the 42 times Djokovic and Nadal have played is an Open era men's record, beating the 37 times Ivan Lendl and John McEnroe faced off.
Whether Serena wins the Australian Open final against Sharapova is almost beside the point. She already is tied with Evert and Navratilova for second place for the most major titles in the Open era behind Steffi Graf. Win or lose, Serena is guaranteed to leave Melbourne with her number one ranking intact. When Serena last regained the number one ranking in February 2013, she was already the oldest tennis player in history to hold the top ranking. She has been in the top spot ever since and keeps breaking her record every week when the new rankings are released.
The Williams sisters came straight out of Compton in the mid 1990s and shot to the top of the tennis world soon after. Not many tennis pundits would have predicted that 20 years later, the Williams sisters would still be on top of the tennis world. And not many of those tennis pundits would be willing to bet against one or both of them making it 20 consecutive years with a Williams sister in a major final in 2016.