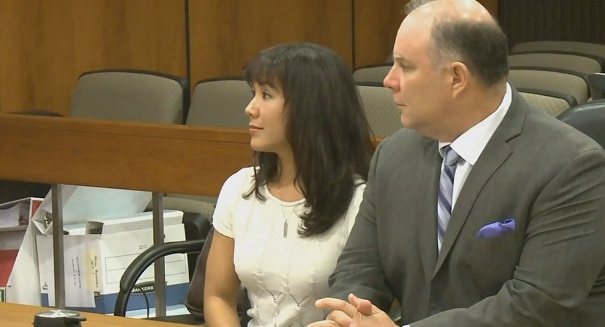 The plea was part of an agreement that Rodriguez accepted to avoid having three felony charges go to trial
Sabrina Rodriguez, a former Sacramento Fox40 news anchor, pleaded no contest last week to a single count of misdemeanor theft in regard to a March 2013 shoplifting incident. The plea was part of an agreement that Rodriguez accepted in order to avoid going to trial on three felony charges. The accepted plea deal stipulates that Rodriguez will pay $2,484 in total restitution to the Coach store, spend 30 days under house arrest, conduct three speaking engagements and remain in informal probation for three years.
Rodriguez, a 31-year-old Emmy-award winning journalist who was recognized for her ability to report news, became news herself on July 31, 2014, after surrendering herself to authorities after an arrest warrant was issued pertaining to her alleged involvement as a conspirator in a shoplifting incident that occurred in March 2013 at a Folsom Coach outlet store. Rodriguez posted $10,000 bail in the wake of her arrest.
The journalist was accused of being involved with the shoplifting incident, and was charged with three felony counts of burglary, conspiracy and grand theft. These felony charges were brought against Rodriguez after she allegedly conspired with her now former fiancé, Nicholas Gray, to steal merchandise – wallets specifically – from a Coach outlet store.
According to court documents, an eyewitness alerted Coach's loss prevention that Gray was seen exiting the store with items he had not purchased. Moreover, video surveillance shows Rodriguez allegedly conspired with Gray to take items. Gray allegedly placed the items into a shoplifting device called a Faraday bag, which allows the concealment of stolen items by interfering with the communication between an item's tag sensor and exit-detectors.
Coach's loss prevention immediately detained Rodriguez outside the store to question her in regard to the missing merchandise, as did Folsom police shortly thereafter. According to Sgt. Jason Browning of the Folsom police department, Rodriguez was detained at the time of the 2013 incident. However, during that encounter police had no evidence that connected her to stolen items.
Rodriguez was not carrying any of the missing merchandise upon detention. The missing items were allegedly with Gray who had fled in Rodriguez's vehicle. A further investigation was pursued by the Sacramento County District Attorney's Office, and on July 31, 2014 an arrest warrant was issued.
After posting bail Rodriguez initially took a leave-of-absence from KTXL Fox40, but resigned shortly afterwards. Rodriguez said that her resignation was because she intended to focus on proving her innocence and seeking to reestablish her good name. She began legal consultation with attorney Mark Reichel. Reichel assured the public and media that the only mistake Rodriguez made was being involved in a toxic relationship with Gray. Rodriguez also received public relations consulting from Doug Elmets.
Competing stations in the area were quick to report on the story, as were multiple media outlets. In addition to this exposure, in the weeks prior to Rodriguez's arrest she had received media attention after her home unexpectedly exploded.
In 2011 Rodriguez landed a multimedia position in Sacramento, a top-20-ranked television market according to the Nielson Demographic Market Area (DMA), and by 2013 advanced to anchoring.