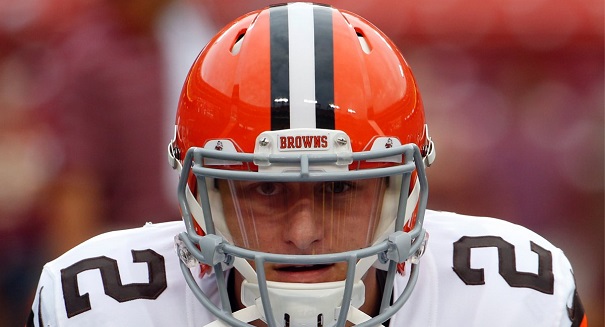 Manziel's debut with Cleveland Browns not impressive.
Johnny Manziel, known as much for his off-field bravado and Instagram posts as for his highlight-reel plays on the gridiron at Texas A&M, made a less-than-stellar debut as starting quarterback for the Cleveland Browns on Sunday. The rookie quarterback appeared flustered and overmatched, mustering only 80 yards passing and two interceptions in a 30-0 drubbing against division foe Cincinnati Bengals.
Manziel earned the starting nod because the previous starter, Brian Hoyer, had been largely ineffective in his previous two games. Yet Manziel, nicknamed "Johnny Football," oversaw an offense that was shut out for the first time this season, and which also ran an NFL season-low 38 offensive plays.
The Browns, which entered the game with a 7-6 record, had unlikely but possible playoff hopes still alive. With this blowout, though, the Browns' chance at the playoffs is over.
Manziel's high-flying, electrifying play in his two years at Texas A&M earned him not only a Heisman Trophy, but endorsement deals and a friendship with another well-known Cleveland athlete by the name of LeBron James. Yet his first start might leave many detractors and skeptics wondering the same thing: can he ever hack it as a viable NFL starting quarterback?
Manziel is not a traditional, by-the-book pocket passer in the same mold as current NFL greats Peyton Manning, Tom Brady, or Aaron Rodgers. He is not adept at reading defenses and picking up blitzes before the ball is snapped, a la Drew Brees or Philip Rivers. Manziel is an improvisational, unpredictable ball of energy who happens to play the most important position in football.
Many of Manziel's most memorable plays in college were of him darting out of the pocket, inexplicably avoiding several would-be tacklers, and hurling a pass to an open receiver for a touchdown. But in the NFL, the pickings are slim. Rare is the time when receivers are wide-open, and when a quarterback can outrun even 280-plus pound defensive linemen.
If he wants to last in the league, Manziel needs to evolve. If not, he might become a cautionary tale. Just like Tim Tebow and Robert Griffin III before him, Manziel could be a spectacular, exhilarating college quarterback who fails to make the cut in the NFL.