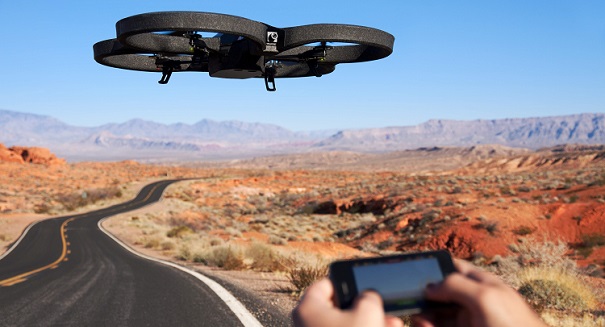 According to the FAA there have been 190 incidents of close calls with drones and aircraft over major airports in the last nine months.
British officials released their findings after a five-month investigation into a July near miss incident between a drone and an Airbus A320 at London's Heathrow airport. The incident was given a risk rating of "A," the highest of the five categories, defined as a "serious risk of collision." British safety investigators called it the "closest a drone has ever come to a commercial jet."
The drone flew over the plane's left wing, reportedly coming within 20 feet of the jetliner. The Airbus A320 was filled with passengers when the incident occurred at approximately 700 feet in the air.
The FAA has reported that near miss incidents between aircraft and drones are on the rise. On Sept. 8 three different pilots reported close calls in a single day at New York's LaGuardia airport. Pilots are reporting most of the drones as the small, camera-equipped models that have become popular with photographers and hobbyists.
According to the FAA there have been 190 incidents over major airports in the last nine months. Drones are tightly regulated by the FAA, commercial companies cannot use them without approval. Hobbyists can only fly drones below 400 feet, and must stay five miles away from airports.
Pilots fear that a drone collision could have the same result as a bird strike. Bird strikes have been attributed to being the cause of many downed aircraft. On Jan. 15 2009, a flock of birds caused U.S. Airways flight 1549 to lose both engines and make an emergency landing on the Hudson river in New York. A scenario pointed out by the FAA is a strike to the wing of a jetliner, where fuel is stored, resulting in a catastrophic explosion. According to FAA records, drones have been involved in 23 crash incidents since 2009.
In March, the FAA fined a New York man $2,200 after his drone struck two midtown Manhattan skyscrapers before it crashed to the ground, nearly hitting a pedestrian. In May a drone with four rotors crashed into the 30th floor of the Metropolitan Square building in St Louis. In August, a small drone injured three spectators after it crashed into the stands at Virginia Motorsports Park.
The FAA is has been under pressure from federal lawmakers and drone manufacturers to give corporations authorization to use the remotely controlled aircraft. Earlier this year Amazon had proposed a plan to use drones to deliver small packages to its customers.
In a 2012 the FAA Modernization and Reform Act was passed by Congress, the FAA was ordered to safely integrate drones into U.S. airspace. Lawmakers gave the FAA a deadline of Sept. 30 2015, to develop a plan to allow civilian drones to begin flying on a regular basis.
U.S. drone manufacturers are pressuring the FAA to implement these regulations quickly, fearing they may lose out to foreign markets. Industry groups project $8 billion in annual revenue once commercial drone use is approved by the FAA.