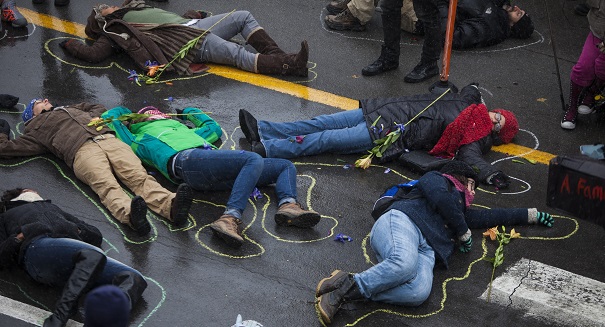 NYU students protest despite finals week in what promises to be part of a long national debate.
It is finals week and  many students across the country are getting more than just intense cramming done. Beginning around noon today, hundreds of NYU students gathered in protest of the Eric Gardner verdict. Several students took to social media to spread word of the massive die-in.
"There are about 400-500 people, and they are coming and going, so participation fluctuates regularly," said 21-year-old NYU biochemistry student, Junaid Shahzad. He went on to add that although he was not currently participating due to the stress of studying, he remained in the library, amid the crowds.
The die-in was set to last an hour and there was heavy NYU security on site to reinforce this rule. Many students took to the page "NYU Secrets" on Facebook to anonymously voice their opinions on the matter. There are many differing viewpoints expressed on the page.
Shahzad's belief is that "Lives matter regardless of what race one is. In this case, two injustices have occurred, and it is everyone's right to speak up against such doings."
A grand jury decided not to indict a white police officer over the controversial chokehold death of an unarmed, black male. This verdict has created a storm of die-ins all around the United States and opened the floor to today's young people for a dialogue.
Deputy news editor for NYU News Alex Bazeley tweeted, "Meanwhile, traffic jams around participants upsetting some. Because, you know, achieving social justice is so inconvenient." It appeared to many that the most dissension that occurred was over the flow of traffic, which is minuscule when one considers the fact that this is occurring in a library during finals week.
The die-in lasted just under 45 minutes with the crowd chanting "Black lives matter" as they all rose. An impassioned man spoke to the crowd before they dispersed, in what Bazeley said to be a "powerful, cool scene."
New York University's Bobst Library was not the only place hosting student protesters this week. In Reno, Nev., over 100 UNR students came together to lie down in protest of the rulings in both Ferguson, Mo. and New York. Students made a symbolic and powerful message by laying on the ground inside of the library for approximately 4 hours and 50 minutes in representation of how long Mike Brown's corpse laid in the streets before anyone moved it. There was also an exit chant of "I can't breathe" 11 times, for the number of times Eric Gardner uttered this phrase while being choked to death.
Many teachers were also involved in the movement, noting how great it was to see a dialogue like this circulating among the youth. These two particular die-ins have been nonviolent approaches to get the word out that not all young people are apathetic to these injustices.
This appears to be only the beginning of a very long national debate, and the youth of today are demanding to be heard. There is another demonstration scheduled for Friday at 6 p.m. at Wingfield Park in Reno, Nev.