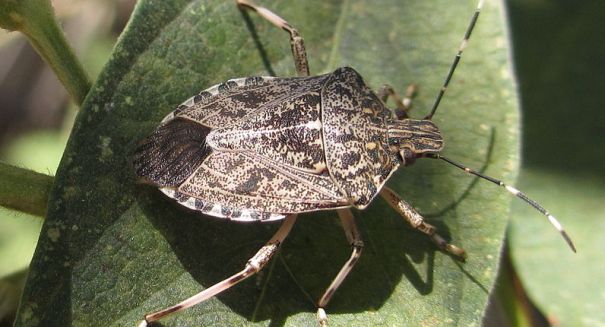 The brown marmorated stink bug has appeared in southwest Michigan.
The brown marmorated stink bug, which has already wreaked havoc on orchards and fields in Pennsylvania, is now making its presence known in Southwest Michigan.
The stink bug, which is an invasive species from Asia, is capable of causing widespread agricultural damage to Michigan's crops. It's also an obnoxious pest that bothers homeowners as well. When the bug is squished, it releases a noxious odor.
According to a recent report by the Michigan State University Extension monitoring program, the stink bugs haven't appeared in large enough numbers to cause agricultural problems- yet. The program began monitoring stink bugs in 2011, when the first one appeared in the area.
MSU stated that surveillance traps set around vegetable gardens and fruit orchards did not detect the pest in large numbers.
The report claimed that "except for a few hotspots in Berrien County and two instances of suspected fruit damage by BMSB in Berrien County and eastern Ottawa County, evidence of BMSB was extremely hard to find. Only four out of the 64 traps checked this past week captured any BMSB – all were in Berrien County."
The pests have been noticed by Southwest Michigan homeowners, however. In an interview with M Live, homeowners Cathie and Bob Buckley discussed the impact that brown marmorated stink bugs have had on their 6.5 acre property.
"I have lots of them," sand Cathie Buckley, "and my husband can't stand the smell of them. They are horrible."
Her husband Bob has been attempting to control the problem. "I dislike them intensely. If you grab them with a tissue,  they release the odor.  I have been trying (to control) them with flying insect killer. It works but you have to use a lot."
MSU will continue to monitor the stink bug population due to the potential negative impact the bugs could have on Michigan's agriculture. The pests have a tendency to suck the juice from crops, and have decimated orchards in the mid-Atlantic region.