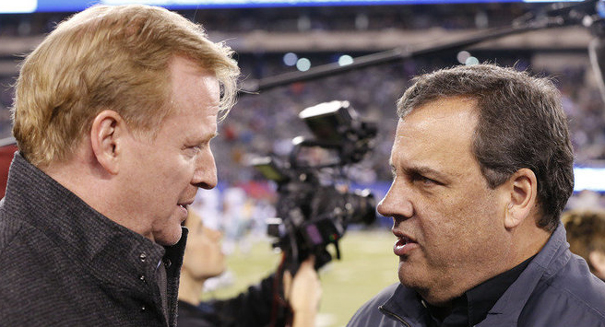 "He's an outstanding man," Christie said.
New Jersey Governor Chris Christie (R) used his weekly radio show to defend embattled NFL commissioner Roger Goodell Thursday. On New Jersey 101.5 FM's "Ask the Governor" call-in show, Christie stated that Goodell should keep his job, despite botching the punishment of Ray Rice for domestic abuse charges.
"He's an outstanding man — an honest man in my interaction with him," said Christie, according to the Star Ledger. "I absolutely believe Roger Goodell is a good, honest, decent man, that has great integrity."
Goodell initially suspended Rice for only two games after the all-pro running back beat his fiance unconscious in an Atlantic City casino elevator. But after more explicit video of the beating emerged, Goodell upped the punishment to an indefinite suspension and Rice was fired by the Baltimore Ravens.
The NJ Star Ledger reports that the NFL has tapped former FBI director Robert Mueller to launch an independent investigation of how the league first responded to the Rice incident.
Lawmakers around the country have called for Goodell's resignation, including Connecticut Senator Richard Blumenthal (D).
"If Roger Goodell lied, as a lot of people believe he did, because the security apparatus of the NFL is so competent and well experienced that for them to not have known about this tape seems incredible, he should go," Blumenthal told the Star Ledger.
Christie meanwhile, remains staunch in his support.
"He's admitted he made a mistake in the Rice case…. In my mind, if I were an NFL owner, I'd be voting to keep Roger Goodell."