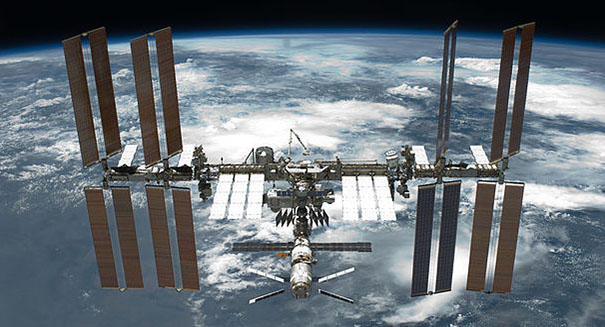 NASA signs Boeing and SpaceX to contracts totaling a potential $6.8 billion to ferry U.S. astronauts to and from the International Space Station.
NASA officially announced on Tuesday that companies Boeing and SpaceX have been selected for groundbreaking contracts to transport United States astronauts to and from the International Space Station on American aircraft.
According to NASA, these Commercial Crew Transportation Capability contracts will complete the NASA certification needed for transportation systems involving human travel into space. With a completed certification, NASA can use these systems to bring United States astronauts to the International Space Station and back to Earth, with the end goal of being independent as a nation in terms of aerospace travel.
The LA Times reports that NASA has been paying the Russian government approximately $70 million per seat for U.S. astronaut travel to the space station since the retirement of the agency's space shuttles in 2011. However, with the latest tension involving the West in the Ukraine-Russia conflict, that relationship has recently become strained.
"Thanks to the leadership of President Obama, the hard work of our NASA and industry teams, and support from Congress, today we are one step closer to launching our astronauts from U.S. soil on American spacecraft and ending the nation's sole reliance on Russia by 2017," said NASA Administrator Charlie Bolden, at NASA's Kennedy Space Center in Florida.
The two companies involved in the contracts combine for a maximum potential value of $6.8 billion, with the Chicago, IL-based Boeing Company worth up to $4.2 billion and Hawthorne, CA-based Space Exploration Technologies Corporation (more commonly known as SpaceX) reaching potentially $2.6 billion. NASA plans to utilize Boeing's CST-100 and SpaceX's Crew Dragon spacecraft to ferry the United States astronauts.
"This space agency has long been a technology innovator, and now we also can say we are an American business innovator, spurring job creation and opening up new markets to the private sector," said Kathy Lueders, manager of the NASA Commercial Crew Program. "The agency and our partners have many important steps to finish, but we have shown we can do the tough work required and excel in ways few would dare to hope."
NASA plans to have spacecraft by both companies developed, certified, and ready to take United States astronauts to the International Space Station by 2017.