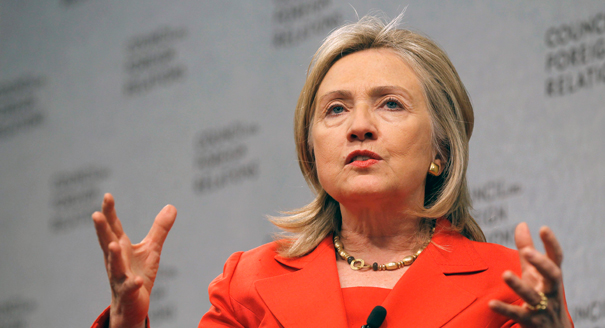 Will she run for president?
The presidential election is two years away, but super PAC's are getting reading for 2016. The left-leaning Priorties USA Action is raising money for former Secretary of State Hillary Clinton-even though she hasn't declared herself as a candidate yet.
The group's fundraising marks the earliest fundraising ever done by a group for a non incumbent presidential candidate. This decision also marks how campaigns have changed in the post- Citizens United era. Citizens United  wanted to run an anti-Clinton ad. After the Supreme Court ruled that corporations like Citizens United can raise unlimited funds for candidates, super PAC's flooded money into the 2010 and 2012 election campaigns.  Ironically, a decision that started as an anti-Hillary campaign can help Clinton raise more money than any presidential candidate.
Priorities USA Action is the highest-profile liberal super PAC ( political action committee). The PAC is headed by former Michigan governor Jennifer Granholm and former President Obama campaign manager Jim Messina. The PAC is hoping to raise millions of dollars for Clinton to fight Republicans through advertising blitzes and targeting specific Democratic voters.
Priorities USA had a mildly successful run in 2012 by spending $67 million on ads attacking Republican candidate Mitt Romney. One of the PAC's  ads featured the controversial suggested that a worker's wife died because he was laid off from Romney's company, Bain Capital.
Though the connection between Hillary and Priorities USA is tenuous, Messina believes that the partnership will work- if she decides to run for president. "I think the numbers clearly show that she's the strongest presidential candidate on the Democratic side," Mr. Messina said in an interview. "And Priorities is going to be there for her if she decides to run."
Though Clinton may not partner with Priorities USA yet, another pro-Hillary PAC will join forces with the group. Ready For Hillary will focus on small grassroots donation in contrast to the seven-figure sums Priorities USA will raise. Despite the objections some Democrats have to big-money fundraising this early, some donors are in favor of the early start.
"Amber and I are both excited about the prospects of being part of the super PAC for Hillary if she decides to run," Steve Mostyn, a big Houston Democratic donor said. "The first time was kind of a leap of faith for us — it was back when no one was giving Priorities money. I think it'll be easier with Hillary."