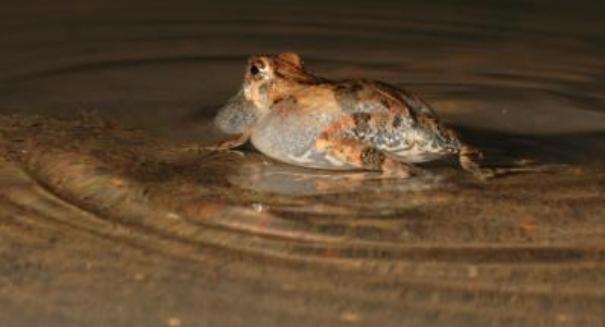 During his mating call, the male túngara frog's vocal sac unceasingly inflates and deflates, much like a pulsing balloon.
According to a news release from the University of Texas at Austin, bats pull an NSA on frogs' love calls. In other words, bats eavesdrop on male túngara frogs based on the water ripples that the amphibians make as they serenade female frogs. Although a frog will halt his love song if he spots a bat overhead, the ripples continue traveling for several seconds after the call stops.
Researchers discovered evidence that bats utilize echolocation to identify ripples and home in on an unsuspecting frog. The finding opens a new window into a continuous arms race between frogs and bats.
The male túngara frog hangs out at night in shallow ponds, trying his best to attract the attention of female frogs. Unfortunately, his mating call generates a multisensory display that can be used by both lover and enemy.
During his mating call, the male túngara frog's vocal sac unceasingly inflates and deflates, much like a pulsing balloon. This action generates a visual cue, but also generates a third signal — ripples in the surface of the shallow pond.
"A general theme of this research is that the way we communicate with any kind of a signal is by creating a disturbance in the environment," noted co-author Mike Ryan, professor in the Department of Integrative Biology at UT Austin, in a statement. "When we vocalize, we're causing changes in the air pressure around us and that's what our ears hear. When we use visual signals, light bounces off whatever pigments we're using and is transmitted to the receiver. Anything we do disturbs the environment, whether it's intended as a communication signal or not."
The researchers discovered that frog-consuming bats were much more likely to attack a target that had both frog calls and ripples coming from it than one with just frog calls. This implies that they can identify the ripples. However, bats seems to lose this favored position if the area around the flog is full of leafs, likely because the leafs stop the ripples from spreading.
"The interesting thing is that these frogs have evolved a strategy to escape predation," posited lead author Wouter Halfwerk, a postdoctoral researcher at UT Austin. "When a frog detects the shadow of a bat overhead, his first defense is to stop calling immediately. Unfortunately for the frog, the water ripples created by his call do not also stop immediately. The ripples continue to emanate out for several seconds, creating a watery bull's-eye on the frog. Bats use the ripples, thereby beating the anti-predator strategy."
The study's findings are described in greater detail in the journal Science.