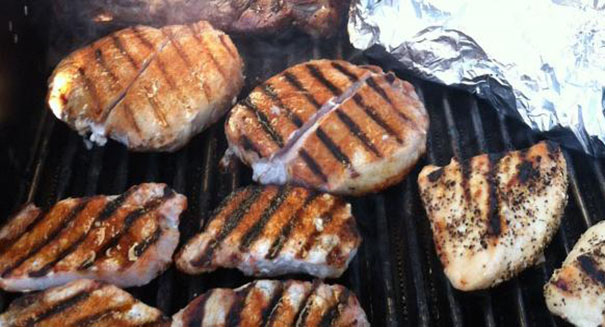 Scientists discover new compounds with shockingly carcinogenic properties
Who doesn't enjoy grilled meat (that is, when most of the country isn't ensnared in sub-zero temperatures)? The smell of the coals, the sizzle of the fire and the smoky, charred grill marks are all hallmarks of meat cooked in a way that's otherwise can't be replicated when cooking indoors. Well, according to researchers at Oregon State University, those same grilling hallmarks might be very, very bad for your health.
The scientists discovered previously unknown compounds created by chemical reactions like those that occur when grilling meat or producing car exhaust. These compounds were found to be literally hundreds of times more mutagenic than their parent compounds, themselves already considered carcinogens.
"Some of the compounds that we've discovered are far more mutagenic than we previously understood, and may exist in the environment as a result of heavy air pollution from vehicles or some types of food preparation," said Staci Simonich, a professor of chemistry and toxicology in the OSU College of Agricultural Sciences.
The researchers identified the compounds in controlled lab experiments that accurately replicate the conditions under which they would find the combustion and exhaust from cars and trucks, or grilling meats over a flame.
The parent compounds involved in this research are polycyclic aromatic hydrocarbons, or PAHs, formed naturally as the result of almost any type of combustion, from a wood stove to an automobile engine, cigarette or a coal-fired power plant. Many PAHs, such as benzopyrene, are known to be carcinogenic.
The PAHs can become even more of a problem when they chemically interact with nitrogen to become "nitrated," or NPAHs, scientists say. The newly-discovered compounds are NPAHs that were previously unknown.
"We don't know at this point what levels may be present, and will explore that in continued research," Simonich said.
This study found that the direct mutagenicity of the NPAHs with one nitrogen group can increase 6 to 432 times more than the parent compound. NPAHs based on two nitrogen groups can be 272 to 467 times more mutagenic. Mutagens are compounds that alter and damage DNA cells, sometimes leading to cancer.
What's worse, the scientists believe the numbers might actually downplay the toxicity of the compounds, due to technical elements when working in a lab.
Though the research isn't yet 100% conclusive, it's perhaps the one example of why you should be glad it's too cold to step outside and fire up the grill.