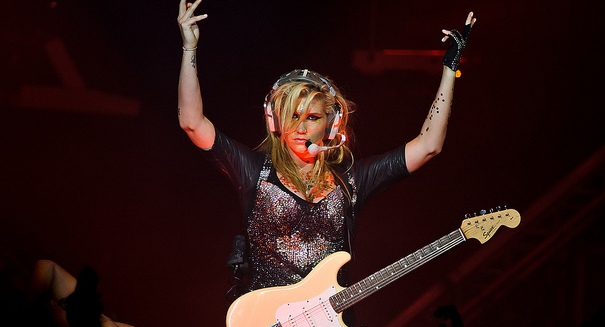 She'll be "unavailable for the next 30 days."
TMZ reports that Ke$ha, whose real name is Kesha Rose Sebert, has entered rehab for an eating disorder.
Ke$ha told TMZ:
"I'm a crusader for being yourself and loving yourself, but I've found it hard to practice.  I'll be unavailable for the next 30 days, seeking treatment for my eating disorder … to learn to love myself again, exactly as I am."
According to TMZ, Ke$ha was admitted to rehab early Friday morning. She is reportedly attending Timberline Knolls. The New York Daily News adds that this is the same treatment facility that Demi Lovato attended in 2010.
The Daily News notes that Ke$ha recently premiered the music video for her new song "Dirty Love." According to CNN, the 26-year-old singer also appeared on "Timber" with rapper Pitbull (the song is currently number two on Billboard's Hot 100 singles chart).
According to The Hollywood Reporter, in October a five-city tour starring Pitbull and Ke$ha was canceled a few weeks from the first show.
Despite disappointing fans, Ke$ha was in high spirits on January 1, 2014.
"Cheers to this year being the best year ever," Ke$ha tweeted on New Year's Day. "2014 gon be the year of truth and freedom."
According to E! News, Ke$ha worked hard to stay in shape in 2013, showing off her progress via her Instagram account. Her trainer told E! News that Ke$ha does a lot of "lunges, squats, stairs and isolated glute exercises."
Ke$ha recently starred in the MTV reality series "My Crazy Beautiful Life." The series revealed Ke$ha's life on and off stage and was filmed by her brother, Lagan Sebert.
Are you a fan of Ke$ha's music? Start a conversation in the comments section.