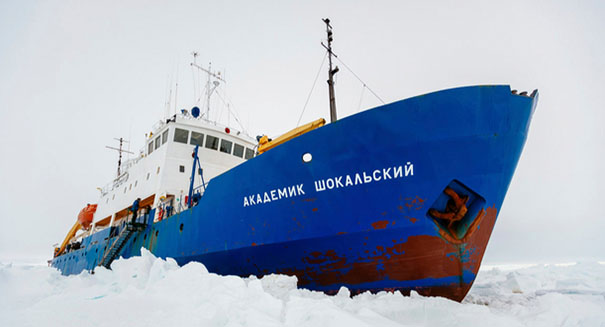 An entire forest will be needed to offset the damage done by the unnecessary Antarctic voyage
If you're going to set out on a pointless, ill-advised mission to re-create a century-old Antarctic expedition, you may as well use enough resources such that it would take an entire forest to undo the damage, right? Well, by the time they were rescued after spending eight days stuck at sea, that's exactly what the crew of Russian research vessel Akademik Shokalskiy managed to accomplish.
The Australasian scientists had been recreating the 1911-to-1913 voyage of Australian explorer Douglas Mawson to Antarctica. On Christmas Eve 2013, the vessel became stuck in a thick patch of ice some 3,000 km off the coast of Bluff, New Zealand. A rescue attempt by Chinese ship Xue Long also failed, leaving both ships stuck in the ice. It wasn't until a helicopter from Xue Long was able to transport the 52 castaways to Australian vessel Aurora Australis that the crew was considered safe. Aurora Australis managed to not get itself stuck.
Prior to the voyage, the expedition had pledged to plant 800 kauri trees in Northland, New Zealand in order to offset the carbon emissions from the trip. After the resources expended rescuing them, 800 trees isn't going to cut it. The new number? Try 5,000, or enough to constitute an entire forest, according to former Act Party leader Rodney Hide.
Expedition leader Chris Turney admitted that more trees would be needed than originally estimated, but he was yet to work out how many (5,000. The number is 5,000).
In an interview with AFP, director of the French Polar Institute Yves Frenot criticised the "pseudo-scientific expedition". Because it ran into so many difficulties, it drained resources from the French, Chinese and Australian scientific missions in Antarctica, he said. The rescue of their pointless mission was truly a global effort.
According to reports, the crew is said to be "in fine spirits."