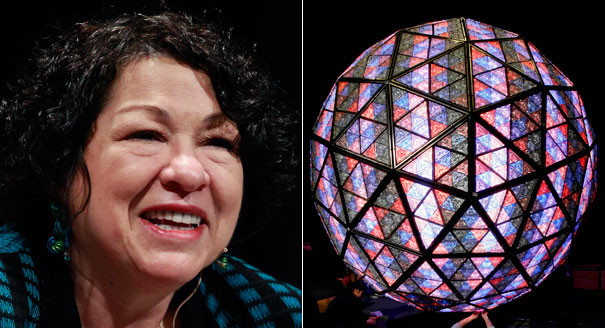 The SCOTUS justice will drop the ball.
The conclusion of 2013 will see an impressive line-up of stars competing for viewers across major networks.
Traditional New Years favorite "Dick Clark's New Years Rockin' Eve", aired on ABC and hosted by Ryan Seacrest, will feature Miley Cyrus, Macklemore, and Ryan Lewis.  Seacrest has hosted the iconic program since the 2012-2013 holiday season.  Events will start at 10:00 p.m. Eastern Time.  Other performers are Blondie, Capital Cities, Daughtry, Jason Derulo, Fall Out Boy, Ariana Grande, Jennifer Hudson, Enrique Iglesias, Billy Joel, Pitbull, Robin Thick and The Fray.  Jennifer McCarthy will assist as host with Fergie representing from the West Coast.
Fox will host "New Year's Eve Live" starting at 11:00 p.m. Eastern Time, featuring J. Cole, Krewella, News Politics, and Panic! at the Disco.  Mario Lopez will host.  Sister station Fox News' "All American New Year's Eve 2014" features Rodney Atkins, Blues Traveler, and Susan Boyle.  Hosts are Elisabeth Hasselbeck and Bill Hemmer.
"NBC's New Year's Eve with Carson Daly" is slated for 11:30 p.m.-12:30 a.m.  with performers Mariah Carey and Blake Shelton. CBS will take a pass for the evening.
Grammy-winning cellist Yo-Yo Ma and vocalist Audra McDonald are headlining PBS' "Live From Lincoln Center" with the New York Philharmonic.  Viewers should check their local listings.
Rounding out the news networks, Anderson Cooper teams up with comedian Kathy Griffin for CNN's broadcast starting at 9:00 p.m.  from Times Square.
BET  features "106 & Party: New Year's Eve 2013" at 11:00 p.m. with special guests Trey Songz, August Alsina, ASAP Rocky, and others. Other notable broadcasts are "¡Feliz 2014!" with live footage from Times Square, Disneyland, and Acapulco, and "TeenNick Top 10" with Nick Cannon, Echosmith, and 4Count.
For movie options, viewers can also catch "Avatar" on FX; "WALL-E" on Disney; or "New Year's Eve" on Cinemax.