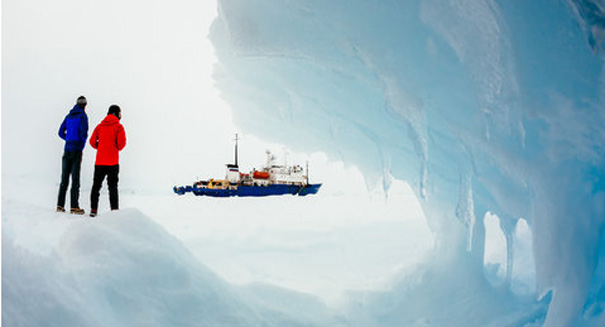 Rescue efforts for trapped Antarctic voyage are disrupting real science.
A helicopter will be dispatched to rescue crew members from the Russian research ship Akademik Shokalskiy that has been trapped by ice since Christmas Eve, according to Russian officials.
"A decision has been reached to evacuate 52 passengers and four crew members by helicopter from China's Xue Long ship, should the weather allow," a Russian foreign ministry statement said on Monday.
The weather is still too dangerous, but once it eases up, and it forced an Australian icebreaker to cease its rescue attempt and turn back. The icebreaker—named Aurora Australis—was the third rescue attempt and failed due to poor visibility and extremely strong winds.
The first and second attempts were made by French and Chinese icebreakers. The Chinese ship, the Snow Dragon, even made it as close as within seven nautical miles of the Akademik Shokalskiy.
The ship does have enough food to last a while and is in no immediate danger, according to the team on board. The team is made up of 74 scientists, crew members and tourists.
The Australasian Antarctic Expedition have been using the Akademik Shokalskiy vessel is being used by to follow the route explorer Douglas Mawson travelled a century ago. Ironically enough, the Antarctic scientist and explorer was traversing the ice continent on Christmas day 101 years earlier.
Strong winds on Christmas Eve pushed thick ice sheets through the water, trapping the Shokalskiy about 1,500 nautical miles south of Hobart, the capital of the Australian state of Tasmania. It is also around 100 nautical miles from the French Antarctic Station Dumont D'Urville.
Most of the people on board the ship are Russian; the remaining passengers come from all over the world, mostly from Australia. According to one of the scientists on board, everyone was all right and wanted to tell loved ones they were well and in good hands.
According to BBC's Andrew Luck-Baker, who is also on board the Shokalskiy, scientists on the ship talked about how they thought the ice was much thicker than usual for this time of year.
"It's Antarctica, we are just taking it one day at a time," said Chris Turney, professor of climate change at the University of New South Wales.
"The conditions are so extreme in Antarctica, you just never know. We are always hopeful."