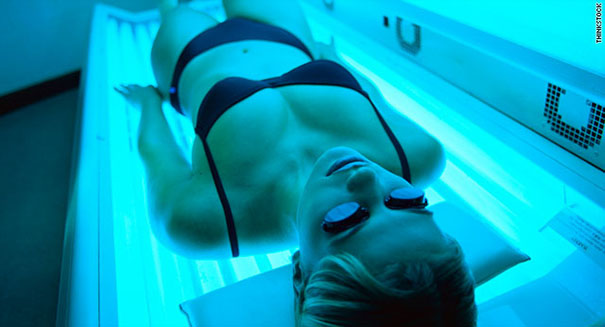 Florida has more tanning facilities than either McDonald's restaurants or CVS pharmacies; second-highest skin cancer rate in United States
Florida, a state known for producing some of the nation's most outlandish news stories, gets a lot of leeway when it comes to public perception. Much of that leeway is likely due to the state's attractive weather. Much of the state boasts warm and sunny conditions for most of the year, making it an ideal place for suntanning, or so one would think. That's why it's surprising that, according to a report by doctors at the University of Miami, Florida has more indoor tanning salons than either McDonald's restaurants or CVS pharmacies.
"We were shocked," said Dr. Robert Kirsner, a UM Miller School of Medicine dermatology professor. "Even in the Sunshine State, where we get plenty of exposure, the beds are proliferating."
Given the news, it's perhaps not so surprising that Florida reports the second-highest rate of skin cancer in the United States. The researchers are working to see if melanoma can be linked to specific areas in Florida. Though doctors say that more research is needed before they can definitively link skin cancer with the spread of tanning facilities, it's hard to imagine that the two are entirely unrelated.
The scientists determined the number of registered Florida tanning facilities from Florida Department of Health data and then compared them to the number of other common Florida businesses. They found that Florida has more than 1,261 tanning facilities, 868 McDonald's restaurants and 693 CVS pharmacies. The state has a tanning salon for every 15,113 people — about one every 50 square miles.
The most alarming component might be the fact that young people are the biggest users of indoor tanning beds, with 40% of teenage girls reporting that they indulge in artificial tanning.
"We found 100 facilities associated with college dormitories and residences. Many of the facilities are associated with wellness centers and health spas, when it's quite the opposite. They're a health detriment," Kirsner said.
It's worth noting that the melanoma rate among young women and girls has more than doubled in the past 30 years.
Florida has proposed legislation that would forbid the use of tanning beds for minors, and require parental consent for those aged 16 to 18. Such legislation would follow in the footsteps of states like Illinois, Texas, New Jersey, Nevada and Connecticut, who all passed similar laws.
As a reminder, The U.S. Department of Health and Human Services and the World Health Organization have both declared ultraviolet radiation from tanning beds and sun lamps as known carcinogens.
Floridians: Don't squander your sunshine. If you wish to tan, go outside.