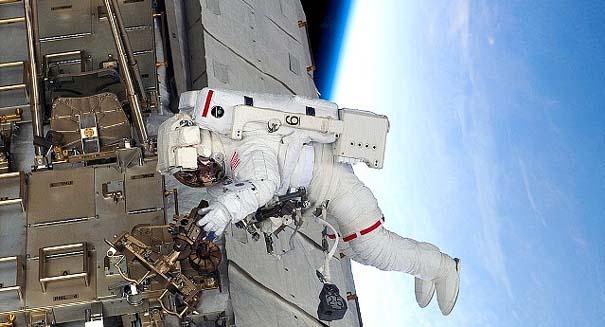 NASA says it will go forward with a series of spacewalks to save the ISS.
NASA has decided on Tuesday, Dec. 17 to go ahead with series of spacewalks to attempt to repair a broken cooling system on the International Space Station. This repair will force a delay of a cargo resupply flight that was scheduled for this week into January, NASA announced.
The station has two ammonia cooling systems that are responsible for temperature regulation of the Space Stations general equipment and tools for running experiments. Though the six-member team was not endangered by this malfunction, they did have to power down unnecessary equipment and halt a few of the experiments when one of the systems shut down the previous Wednesday, according to NASA.
Engineers were able to pinpoint the problem with a broken valve inside a pump, and their attempts to bypass that broken valve proved fruitless. The cooling systems remained down Tuesday afternoon, which prompted the U.S. Agency to assign two astronauts to replace the pump with a spare.
Astronauts Rick Mastracchio and Micahael Hopkins tried on their NASA-designed spacesuits on Monday, Dec. 16, preparing for the possibility that they would have to go out into orbit to make the repair. They will be making as many as three spacewalks to repair the pump externally. To prepare for that, they have also undergone tool checks and running through procedure checks. The first of the potential three spacewalks is scheduled for 5:15 a.m. ET., said NASA to ABC News.
Meanwhile, the private spaceflight company Orbital Sciences Corp. pushed the commercial launch of the Cygnus spacecraft that was slated for a Dec. 18 launch to the second week of January at the earliest, said NASA spokesman Josh Byerly at the Johnson Space Center in Houston.
Orbital Sciences is one of two companies that NASA hired to fly supplies to the outpost. This flight, the first of eight under the $1.9 billion NASA contract, was prepared to launch from Wallops Island, Virginia. The cargo run mainly resupplies the $100 billion research lab flying 250 miles above Earth.
This is the first spacewalk since July when Italian astronaut Luca Parmitano's spacesuit malfunctioned, causing his helmet to fill up with water and almost drown him. NASA had immediately aborted that spacewalk and halted future outings until the engineers could find out the cause for the spacesuit malfunction.
NASA has announced that it will be holding a briefing on 2 p.m. ET Wednesday regarding the upcoming spacewalks and NASA's next steps regarding the repair.