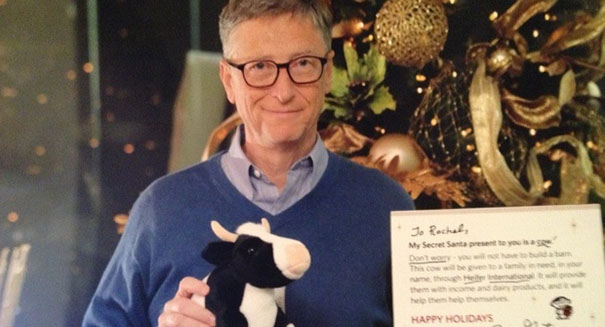 Bill Gates shocks the internet with charitable donation on behalf of a Redditor
"Secret Santa," where coworkers anonymously purchase gifts for one another only to reveal their identities anyway, is the undisputed king of droll office holiday traditions. Others include themed apparel days and office parties where revelers are paradoxically encouraged to "cut loose" and then later admonished for actually doing so. They're things that are dreaded, yet unavoidable.
But what if your secret Santa turned out to be Microsoft co-founder Bill Gates?
That was the case for Reddit user NY1227, a 24 year old named Rachel. Reddit's secret Santa program typically features swaps between community members, but the package Rachel received was a little different. When she opened her shipment, it revealed a toy stuffed cow, a book on travel and a card with an accompanying certificate of donation to Heifer International, a nonprofit that seeks to end world hunger through the donation of crops and livestock.
Weird? Sure, but it was about to get weirder.
Also included in the package was a photo of a man holding the cow and her donation certificate. The man? None other than billionaire philanthropist and tech giant Bill Gates.
"And then it finally hit me," Rachael wrote. "All the presents I just tore open, the charity, then everything– was from Bill GATES. I quickly went back to the book to see a really nice message and note from Bill wishing me a Merry Christmas and a Happy Birthday (not pictured, because I really want to keep one part of this gift to myself) my jaw hit the EVER LOVING FLOOR. I went back to all the other gifts completely shocked. Then I paused for a minute and thought, what if this is someone screwing with me. Well of course Mr. Bill Gates already thought of this and took a picture of himself with my stuffed animal and a sign and then sent me the stuffed animal and sign."
She continued: "My god. Never in my entire life did I imagine, ever, ever, ever that Bill would get me. I am SO SO thankful for the time, thought and energy he put into my gift, and especially thankful for him over nighting it :). ps: Sorry for the apple ipad on my wishlist, that was really awkward."
Maybe she should have asked for a Microsoft Surface tablet, which are reported to be in limited supply this holiday season.
Gates, like other titans Carnegie and Rockefeller before him, is now known as much for his charitable giving as he is for the empire he built. Since its inception, the Bill & Melinda Gates Foundation has awarded over $28 billion in grant payments.