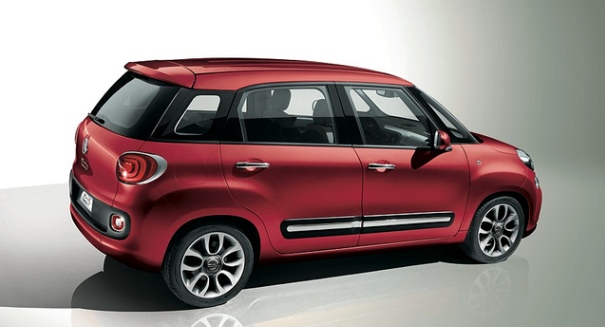 The finished artwork was shown off at last week's Los Angeles Auto Show.
Why travel all the way to the Vatican City to behold Michelangelo's venerable Sistine Chapel masterpiece when you can check it out right here, in the United States, from the floor of a Fiat 500L?
That may or may not have been the line of thinking employed by Fiat when they commissioned a talented Italian painter named Nicola Verlato to paint a scaled down replica of the famous mural on the ceiling of a brand new Fiat 500L. According to a report from the USA Today, the finished artwork was shown off – along with Fiat's 2014 500L model, of course – at last week's Los Angeles Auto Show.
USA Today suspected that the move was a gimmick with a threefold goal. First, it displayed how roomy the Fiat 500L really is, with a squared off ceiling big enough to accommodate a stunning replica of the sprawling Sistine Chapel. Second, it underlined Fiat's exotic Italian roots. And third, it called attention to itself in a way unique enough to help Fiat stand out from the rest of the competition at the auto show.
Autoedizione.com had different thoughts about Verlato's painting. Fiat has been trying to posit the 500L as a "renaissance" of sorts for itself since the 500L car was first unveiled in 2011. How better to emphasize that rebirth perspective than by marking one of the 500L models with a replica of the most famous painting from the Renaissance art period?
Whatever the reason for the painting, it is impossible to deny that the craft of the work is remarkable. Arguably, Nicola Verlato is the biggest winner of this marketing gimmick, not only for his ability to flatteringly recreate one of the foremost masterpieces of all time, but also for his use of state of the art methods to get there. According to Autoedizione.com, the painter utilized 3D software techniques to assure that "the prospective was correct" on his replica and that the Chapel painting could be fitted accurately into the unique nooks and crannies of the Fiat 500L's ceiling.
Could Verlato's beautiful work end up in more than one Fiat 500L? For now, it appears that his work – like Michelangelo's – will remain a "one of a kind" specimen. However, if the painting is well-received enough – and if the auto manufacturer wants to take its Italian marketing angle to the next level – it's possible that the painting could be mass produced and fitted to the ceilings of a special 500L line.