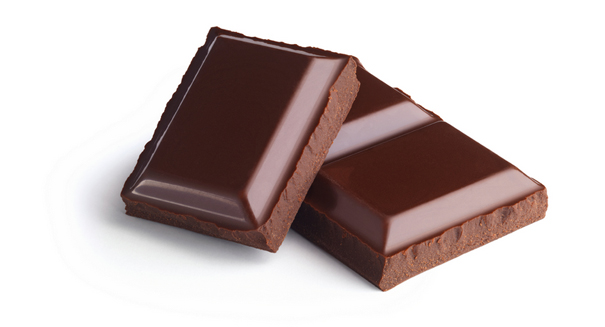 Chocolate offers more than sugar and empty calories, carrying a number of health benefits.
According to the National Confectioners' Association (NCA), 75 percent of households plan to hand out candy on October 31.  Of all the choices of treats to hand out, chocolate is a clear winner for Halloween candy, followed by candy corn.  With 81 percent of parents sharing in their kids' trick-or-treating loot, handing out chocolate is probably a safe bet.  According to 10 News Tampa Bay, 72 percent of all candy spending this year will be for some type of chocolate.  The favorite chocolate brand in America is Reese's, followed by M and M's, Snickers, Hershey's, and Kit Kat.
Fortunately, chocolate offers more than sugar and empty calories, carrying a number of health benefits.  A 2011 Swedish study found that women who ate more than 45 grams of chocolate a week had a 20 percent lower risk of stroke than women who treated themselves to fewer than 9 grams of the sweet stuff, reports the Huffington Post.  Also, regular chocolate eaters have a whole host of benefits for their hearts, including lower blood pressure, lower bad cholesterol, and a lower risk of heart disease.  In particular, dark chocolate is especially heart-healthy because of its inflammation-fighting properties, which reduce cardiovascular risk.
According to Women's Health, dark chocolate can also help with weight loss.  In research from the University of Copenhagen, scientists found that dark chocolate is more filling, offering more of a feeling of satiety than its lighter-colored sibling.  That is, dark chocolate lessens cravings for sweet, salty, and fatty foods.  In other words, indulging in a small portion of healthy dark chocolate makes it easier to stick to the small portion of chocolate recommended for optimal health, but also makes it easier to adhere to a diet in general.
Halloween's origins date back to the ancient Celtic festival of Samhain, according to the History Channel website.  The Celts, who lived 2,000 years ago, celebrated their new year on November 1. This day marked the end of summer and the harvest and marked the beginning of the dark, cold winter, often associated with human death. Celts believed that on the eve of the new year, the boundary between the worlds of the living and the dead became blurred.
In addition to splurging on chocolate, the National Retail Federation reports that spending on Halloween is a billion-dollar industry.  Americans are expected to spend $2.6 billion on costumes alone, including costumes for adults, children, and pets.  In total, Halloween spending including candy and decorations is expected to reach $6.9 billion in 2013.