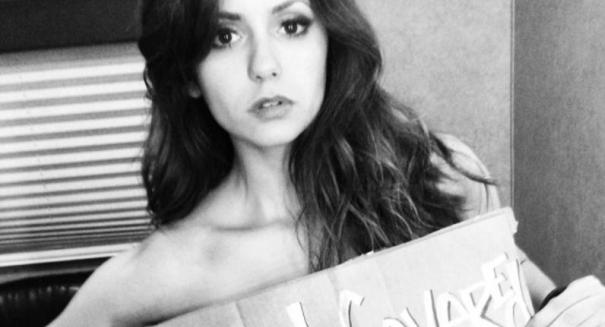 "#GetCovered ,Because w/o it, you're naked," Nina Dobrev tweeted.
As the government shutdown moves into its second week, all eyes are on the debate over the Affordable Care Act. To demonstrate her support for President Barack Obama's signature piece of healthcare legislation, "Vampire Diaries" actress Nina Dobrev got topless, posting a photo to Instagram of herself with a sign that says "#getcovered," a reference to the newly opened Health Insurance Marketplace.
Dobrev tweeted: "Im Canadian. We have healthcare for all. If you dont have insurance go to http://say.ly/cdi6TN2 and #GetCovered ,Because w/o it, youre naked."
Although Dobrev was the only celebrity to go topless, she was joined by several other actors/actresses who fully support the president's healthcare law, including Rosario Dawson, Connie Britton, Kerry Washington and Kate Bosworth. They all made homemade #getcovered signs to demonstrate their support for Obamacare. Us Weekly reports that Dobrev's topless picture garnered 94,000 likes for the grassroots campaign.
Dobrev's campaign may have worked too well. When the Health Insurance Marketplace launched online, traffic surges and glitches plagued the site, making it difficult for people to sign up and search for quality healthcare plans.
For other weird celebrity endorsements, check out actor Samuel L. Jackson's "Wake the F**K Up" campaign video.
Did Dobrev get her message across? Do you support Obamacare? Have you used the Health Insurance Marketplace online? Share your thoughts and epxeriences in the comments section.