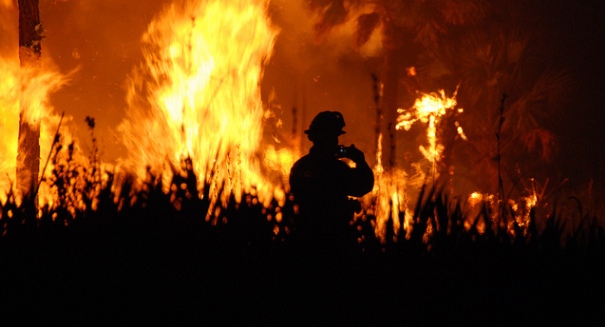 Approximately five square miles of the fire-damaged area is in the watershed of the municipal reservoir.
According to a report from the AFP, the Rim Fire has become the third largest wildfire in California history. The fire has grown to 385 square miles, but firefighters now have it 80 percent contained. In an effort to bring life in Yosemite National Park back to normal, officials reopened Highway 120 on Friday.
Citing the U.S. Forest Service, The Associated Press reports that the Rim Fire was caused by an illegal fire set by a hunter.
The AP also notes that the fire has burned hundreds of acres of timber, meadows and easily-harmed wildlife habitat. Not only has it cost millions to contain, officials tell The AP that it will cost millions more to reverse the harm done to the environment.
Approximately five square miles of the fire-damaged area is in the watershed of the municipal reservoir.
"That's 5 square miles of watershed with very steep slopes," Alex Janicki, the Stanislaus National Forest BAER response coordinator, told The AP. "We are going to need some engineering to protect them."
Although firefighters now have the Rim Fire 80 percent contained, Reuters reports that wildfire is predicted to burn for another two weeks before being completely extinguished. In fact, the fire was expected to intensify Friday.
"Fire activity is expected to intensify Friday as unburned areas within control lines are consumed on the Rim Fire," several firefighting agencies said in a joint statement obtained by Reuters.
Reuters notes that the fire has expanded by nearly 10,000 acres since Thursday.
Fearing worsening conditions on Friday, firefighting crew utilized hand tools and chainsaws, in addition to other heavy-duty firefighting equipment, to bring the fire under control.
According to a different AP report, several federal teams are on their way to the Rim Fire to start the long process of repairing the environmental damage done by the searing flames.
Should the hunter be punished? If so, what should the punishment be? Will the fire spread again or have firefighters gained the upper hand on the Rim Fire? Share your thoughts in the comments section.