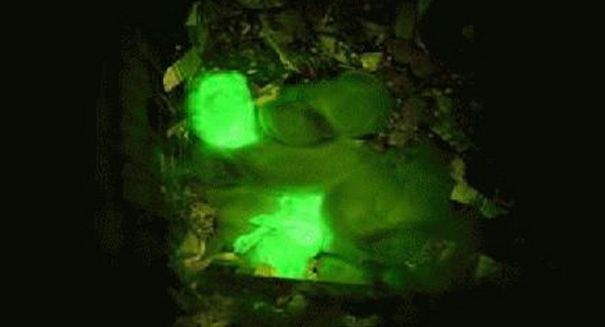 Bunnies that glow in the dark?
The bunny world just got a little cuter and a bit more controversial this week when a litter of rabbits was born at a research center in Istanbul, Turkey. A team of scientists between Hawaii and Turkey bred these rabbits to glow green under black light, and their birth signals a leap forward in medical research even as the unease over the ethics remains strong in the U.S.
"It's just a marker to show that we can take a gene that was not originally in the animal and now exists in the animal," said University of Hawaii biogenesis researcher Dr. Stefen Moisyadi. Transgenic animal research started in the 1980s when the scientific community adopted a technique called pronuclear injection—inserting genes from various organisms directly into DNA in the nucleus of embryos. The first successful experiment was with mice and has since been recreated in kittens, puppies, piglets and monkeys.
The researchers improved upon the method with their experiment on the rabbits. "We can inject the actual nucleus of the egg and what we did, we made a slightly larger hole that allows us to regulate the amount of DNA that we put in," explained Dr. Joel Marh, IBR Transgenic Facility Director.
Despite their glow under black light, the rabbits are otherwise normal. The green glow in the experiment is the result of inserting a fluorescent protein from jellyfish DNA into the rabbit embryos. It verifies that the rabbits now carry the jellyfish's protein in their own DNA, confirmation of the experiment's success. The team hopes the research will help them find ways to create cheaper medicine for genetic disorders such as hemophilia.
"[For] patients who suffer from hemophilia and they need the blood clotting enzymes in their blood, we can make those enzymes a lot cheaper in animals with barrier reactives rather than a factory that will cost billions of dollars to build," Dr Moisyadi said.
While the transgenic animal research offers promise, it is wrapped in controversy. The baby rabbits were bred in Turkey because of the general frenzy in the U.S. against genetics research. "At home, there is this hysteria that transgenic animals should not be used for anything," Dr Moisyadi said.
He added that the team was committed to the research "because there is an eventual benefit for the human race in this. And if we don't do it in these first-world countries, where will we do it?" Now that the team has succeeded in breeding florescent bunnies, they plan to create a glow-in-the-dark lamb by November.