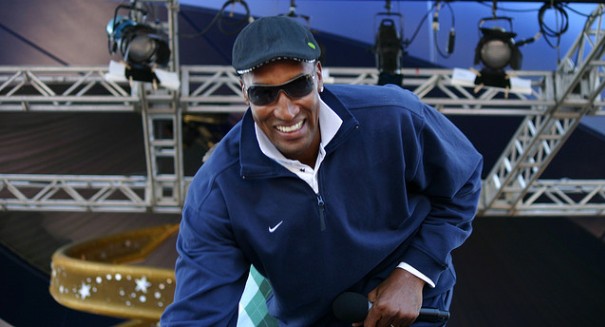 Scottie Pippen's wife starred on the first season of "The Real Housewives of Miami."
Scottie Pippen's wife was the cause of a fight between the former NBA star and an autograph seeker at a restaurant in Malibu, California. Former Chicago Bulls star Pippen "went to town" on a man who "made off-color comments about his wife, according to a source close Gossip Extra.
The story was originally reported as Pippen physically assaulting the man after being asked for an autograph. However, it's become clear that the signature-seeker offended the NBA legend by making rude comments about his wife, former reality television star Larsa Pippen.
Gossip Extra's report also says that the altercation came as a surprise to Pippen's friends, who said he has a reputation in the Fort Lauderdale area "as a sweet, even-tempered guy."
Pippen is constantly irritated by the comments he hears about his wife's tendency to dress "pretty provocatively," according to a close friend quoted in the same report.
Larsa was a model who starred on "The Real Housewives of Miami" in the show's first season, but she failed to draw much interest from audiences and didn't make it any farther in the show.
Pippen was questioned by the Malibu police after the incident, and was subsequently released after the decision was made not to arrest him. The former Bulls star "allegedly punched him in the face and kicked him repeatedly," according to TMZ.
The 47-year-old Pippen played on six championship teams with the Bulls after being drafted in 1987. He played for seventeen years for the Bulls, Rockets, and Blazers, and was inducted into the Naismith Basketball Hall of Fame in 2010. He was named as an advisor to the Bulls' president last October. The team did not comment on the altercation.
The incident occurred Sunday evening in Nobu restaurant's parking lot in Malibu. Steve Whitmore, a Los Angeles Count Sheriff's Department spokesman, said that Pippen had "been cooperative" and would "not be arrested, there's more here than meets the eye."
Nobu has been a favorite spot for celebrities over its fifteen years in business in Malibu. Not long ago the restaurant moved to the Pacific beachfront location where the weekend altercation took place.
Pippen and his wife have been in the Los Angeles area for the past three weeks, visiting the L.A. Zoo and Universal Studios during their time in the area. They've also frequented parties in the area.
Referring to the criticisms of Pippen's wife Larsa that might have been the cause of the man's remarks, the original Gossip Extra report noted that "She does shine on red carpets…after squeezing into duds that usually want to burst open."