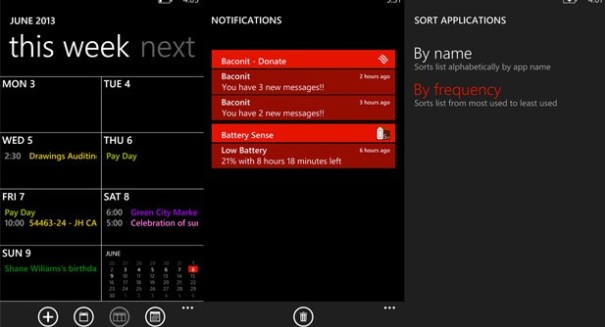 Leaked images from next Windows Phone update reveal several significant changes.
The latest Windows Phone update is said to have the long-anticipated notification center. Leaked screenshots from an eBay-bought Lumia 920 that contained a pre-release version of the update show several significant changes for Microsoft's mobile platform, The Verge reports.
Reddit user "ChinaMan28" will from this point forward be considered a god in the world of mobile phone technology, as the tech savvy individual had the genius idea of posting screenshots from his Lumia 920 to his Flickr account, which he then linked to via Reddit.
While there will be several new components to the next Windows Phone update, perhaps the one Windows Phone users are most excited about is what appears to be a notification center. The notification center will solve many of the problems faced by users receiving "toast notifications" on older versions of the Windows Phone.
The leaked images also reveal a redesigned calender interface with weekly views, as well as what appears to be a new multitasking system with the ability to shutdown apps from the multitasking view.
Some, including Will Stabley of Stabley Times, have speculated that Microsoft intentionally leaked these screenshots to showcase what the new version of the Windows Phone looks like before Apple reveals its new interface changes at WWDC on Monday.
Did Microsoft intentionally leak these screenshots or is this a pre-release version of the Windows Phone update that was misplaced? Feel free to discuss in the comments section.